Do you have any questions about the COVID vaccine? Join us and get them answered by a qualified infectious diseases specialist and two GPs!
About this event
As the vaccine roll-out picks up speed, many of us are anxious about getting our fist jab. Muslim Collective's Circle Discussion group has brought together three highly qualified medical practitioners to helps us bust myths and answer our questions.
Everyone is welcome to join us at this free online event live on Sunday 27 June at 1pm with the ZOOM Meeting ID: 98366269005
or
live on Facebook.com/muslimcollective
Dr Aaron Bloch
Dr Bloch is an infectious diseases specialist and general physician. He is Medical Governance Lead of the St Vincent's Hospital Melbourne Vaccination Program, including the Royal Exhibition Building Mass Vaccination Centre. He also works with the Grampians Public Health Unit and is passionate about working with communities.
Dr Mariam Tokhi
Dr Mariam Tokhi is a GP working in private practice in Melbourne and at Utopia Refugee and Asylum Seeker Health, a welcoming and inclusive healthcare space In Melbourne's West for people from refugee and immigrant backgrounds. Mariam has an interest in women's health, mental health and public health. She graduated in Medicine from Monash University, and she has a Master of Public Health from Johns Hopkins University in the United States. She is passionate about high quality care for all people.
Dr Imran Marzook
Dr Marzook is a GP with experience in public health and aged care. He practices in Essendon and also visits a number of aged care facilities, looking after elderly members of our community. He looked after many patients infected with COVID19 during the 2020 outbreak in nursing homes and the Flemington towers. He is member of the Victorian council of the Royal Australian College of General Practitioners.
The event will be moderated by Dr. Reem Sweid, social policy research fellow at Deakin University.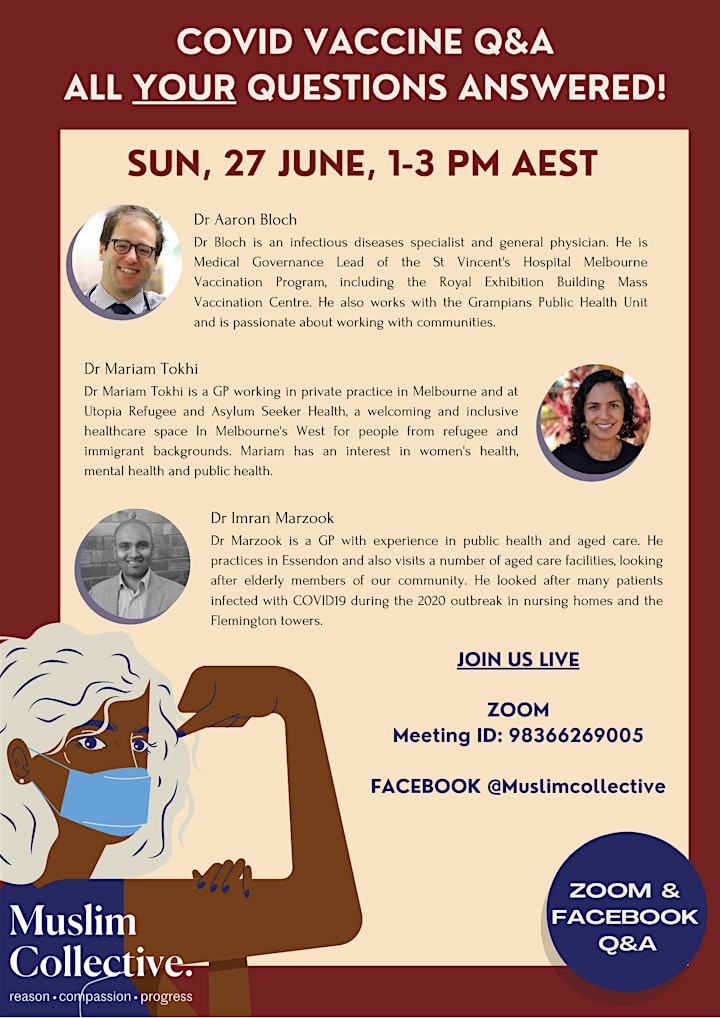 Organiser of Covid Vaccine Q&A
Muslim Collective is a dynamic Australian faith-based community for progressive thought and social action. We are a diverse and inclusive group that supports and encourages dialogue about the real issues of our time.
We envisage a society where all people - regardless of gender, religion, race, culture or sexuality - can contribute to this conversation respectfully. Come and meet others who you can have real conversations with- we have community groups in Melbourne, Sydney, Brisbane and Canberra. 
info@muslimcollective.com