COVID Recovery for Small Business - Pine Rivers Chamber of Commerce
COVID Recovery for Small Business - Pine Rivers Chamber of Commerce
About this event
We are proud to announce this event is sponsored by Moreton Bay Regional Council!
Open to Members AND Non-Members
Hello Pine Rivers Business Community!
We're back! And just like in March, we've got such amazing plans for this event. We're being hosted again by USC Petrie at their beautiful venue, PLUS an incredible option for a TOUR of the USC Petrie campus. I personally wouldn't miss this!
We have Donna Johnston, MBA, (Entrepreneurial Management), Strategist & Editor-in-Chief coming to chat with us about COVID recovery for small business - a very timely conversation. Feel free to check out her website for more information about Donna and her business: -
To help keep our event COVID-Safe, we have had to limit numbers so be sure to reserve your place as soon as possible. We've got exciting new event sponsors and sponsorship opportunities - they are limited so definitely come along to our event to hear more about it and reserve your sponsorship opportunity.
We've subsidised sessions for this breakfast so tickets are only $15 each, and breakfast is included. You very much will not want to miss out, so book today!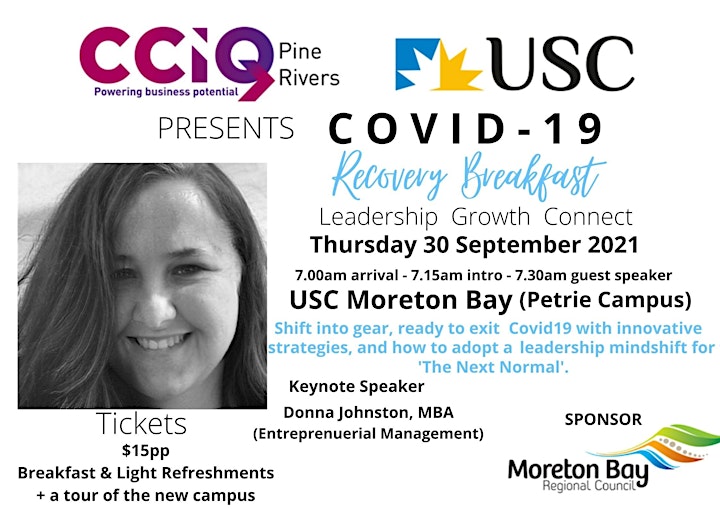 Organiser of COVID Recovery for Small Business - Pine Rivers Chamber of Commerce