COVID-19 – Restarting, Transitioning and Resilience – Online Coaching
Four complimentary one-on-one online coaching sessions and webinars for eligible tourism and hospitality businesses.
About this event
COVID-19 has significantly disrupted many of the assumptions and tools that business leaders rely on for decision-making, and therefore a solid framework for action and moving forward is essential.
Four key business activities have been identified to help Queensland tourism businesses to prepare for re-opening and to be competitive in a primarily domestic market for 2020/21.
Four complimentary sessions of one-on-one online coaching is available to eligible tourism and hospitality businesses that have participated in or viewed, one or more of the four webinars outlined below:
The 2020-2021 Queensland Tourism Industry Business Capability Development Program (TIBCDP) will offer four live webinars delivered by tourism industry specialists that will commence early July 2020, on the following topics:
COVID re-opening preparation,
Pivoting product and innovation,
Domestic trade and distribution, and
Domestic marketing.
Businesses that are unable to participate in the live webinars will be able to view the recorded webinars from the QTIC website.
Eligible Businesses:
Micro, small, and medium businesses across all sectors of the tourism industry are encouraged to participate.
A tourism business is defined as a business that provides a direct service or experience to the leisure tourist and operates within ONE of the following categories:
Accommodation
Attraction
Food and Drink
Events
Tour
Hire
Transport
Businesses that supply to tourism industry businesses are ineligible to participate in the Queensland Tourism Industry Business Capability Program.
For further information email workforcedevelopment@qtic.com.au or call (07) 3236 1445.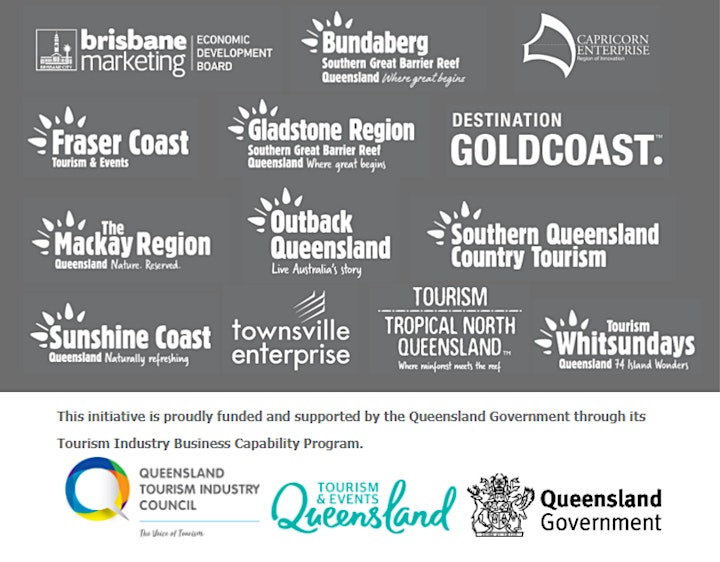 Organiser of COVID-19 – Restarting, Transitioning and Resilience – Online Coaching