COVID-19 & FIRB: GETTING THE DEAL DONE – TIPS AND TRAPS
Join MinterEllison and Argonaut's team of China and FIRB specialists in this important Webinar.
About this Event
In this webinar, you will hear from a panel of experts from MinterEllison and Argonaut who will provide insights into the latest changes to FIRB and how you can better understand the regulations.
We look forward to an interactive session.
Speakers
Eddie Rigg, Chairman and Head of Corporate Finance, Argonaut.
Pete Balsarini, Director Corporate Finance, Argonaut.
Adam Handley, China Markets Leader, MinterEllison.
Bi Chen, Chief Rep, MinterEllison Beijing
Bryn Davis, Partner, MinterEllison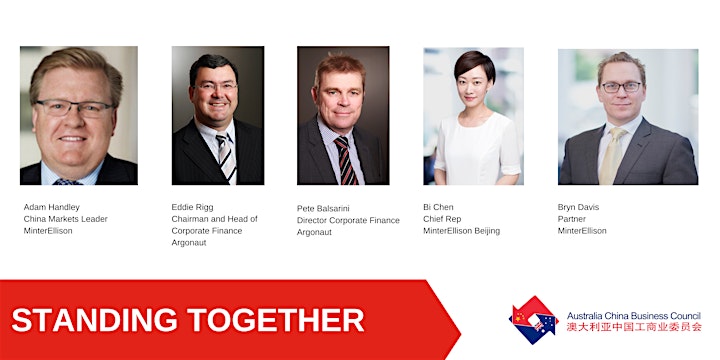 Adam Handley, China Markets Leader, MinterEllison
Adam is regarded as one of the leading advisers to major Chinese State Owned Enterprises and private Chinese enterprises investing in Australia since the first wave of investment commenced in 2007.  He has acted on more than 25 major Asian investment projects into Australia, including for a number of China's largest stated owned and private enterprises.
Eddie Rigg, Chairman and Head of Corporate Finance, Argonaut
B Bus, MAICD, SA Fin
Eddie is a co-founder of Argonaut. He has extensive experience in the execution of M&A and capital raisings for both public and private companies and is an active originator of domestic and cross border transactions for small-cap through to large multinational entities and SOE's predominantly in the metals and mining and energy sectors. Prior to establishing Argonaut, Eddie was an Executive Director, Investment Banking of CIBC World Markets, a global investment bank. Eddie is a 40under40 and City of Perth Business Award winner.
Eddie is a Responsible Executive under the ASX Market Integrity Rules, a Responsible Officer under the Australian Financial Services Licence regime and is a Responsible Officer of Argonaut Securities (Asia) Limited and is authorised to deal and advise in Securities and Corporate Finance in Hong Kong.
Peter Balsarini, Director, Corporate Finance, Argonaut
B Econ, M.Bus, CPA, GAICD
Prior to joining Argonaut Peter was the founding CEO of one of Australia's leading listed clean tech businesses where he was in the vanguard of large scale deal origination and strategy development in the initial phases of the Clean Energy Act (Carbon Pricing). In addition to his clean energy and carbon markets expertise, Peter has extensive experience in business advisory, funds management, corporate governance, commercial property and agriculture in Australia and Asia.
Peter is a qualified accountant, has a Bachelor of Economics, a Masters of Business and is a graduate of the Institute of Company Directors.
Bryn Davis, Partner, MinterEllison
Bryn's expertise spans buy- and sell-side transactions for public and private clients, particularly in the energy and resources, agribusiness and technology sectors.
He also assists with ongoing operational matters such as capital raising, commercial contracting, continuous disclosure, corporate governance, divestments, joint ventures, restructures and regulatory communications.
Bryn's particular focus is on inbound investment. He has helped public, private and listed entities navigate the complexities of Australian corporate law, foreign investment regimes and other key regulatory risks.
Bi Chen, Partner & Chief Representative, Beijing office, MinterEllison
As the chief representative at MinterEllison's Beijing office, Bi helps Chinese state-owned enterprises and private companies with their outbound investments and market entry strategies. Through MinterEllison's integrated office and membership networks, her clients trust her to help navigate and support their investments and operations in Australia, North Asia, Europe, South East Asia and beyond.
Webcast Platform - Zoom - Download Zoom on Your PC, Mac or Phone
We will be using Zoom for this Webcast. Please make sure you download Zoom at:
Step 1: https://zoom.us/support/download 
Step 2: Follow the steps of the setup.
If you need more information about downloading Zoom go to:
https://support.zoom.us/hc/en-us/articles/201362233-Where-Do-I-Download-The-Latest-Version-
How to Join and Participate in a Webinar - Zoom
For more information go to: https://support.zoom.us/hc/en-us/articles/115004954946-Joining-and-participating-in-a-webinar-attendee-