Location
Royal Tasmanian Botanical Gardens
Lower Domain Road
Hobart, TAS 7000
Australia
Sales Have Ended
Registrations are closed
Applications closed at midnight 1st June, 2022. We are no longer accepting applications for this course. Please contact kyle@atdc.org.au if you would like to be emailed when the next opportunity arises.
Apply for the four-day course for consumer reps to enhance skills and knowledge to enhance representation of the voice of consumers.
About this event
Apply for the Course in Consumer Leadership 2022
Applicants must have an active interest in consumer participation, preferably in a formal role with responsibility in providing or supporting consumer leadership and/or consumer representation in a health or community service.
The course is delivered by an experienced trainer, Dr Tere Dawson (Health Issues Centre), and it is nationally accredited. It covers the following units of competency:
CCLECM001B – Engage as a consumer or community member in a health or community service
CCLSCE002B – Support consumer and community engagement within a health or community service
CCLPCL003B – Provide consumer and community leadership
Cost:
The ATDC will cover the full tuition cost of successful applicants (usual cost, $1089)
Important Dates:
Applications Open: 28/4/22
Applications Close: Midnight 27/5/22
Results advised: 2/6/22
Course dates:
Day 1: Monday 20th June
Day 2: Tuesday 21st June
BREAK - Wednesday 22nd June
Day 3: Thursday 23rd June
Day 4: Friday 24th June
Accommodation and Travel:
The ATDC will arrange accommodation and provide meal allowance for any successful applicants who travel from regional Tasmania to attend. The ATDC will also fund bus travel.
To submit an application please follow the registration process below.
Notes:
(i) This is an application process. Each submission will then be assessed by a panel prior to final acceptance. There are a maximum of 10 places.
(ii) A reasonable level of literacy is required to undertake the course as there will be written assessments.
Please provide adequate detail and length in your responses, as necessary for a highly competitive and professional scholarship application
If you have any questions or require more information please contact Kyle Perry, Lived Experience Advocate Service Coordinator at the ATDC on (03) 6231 5002 or kylep@atdc.org.au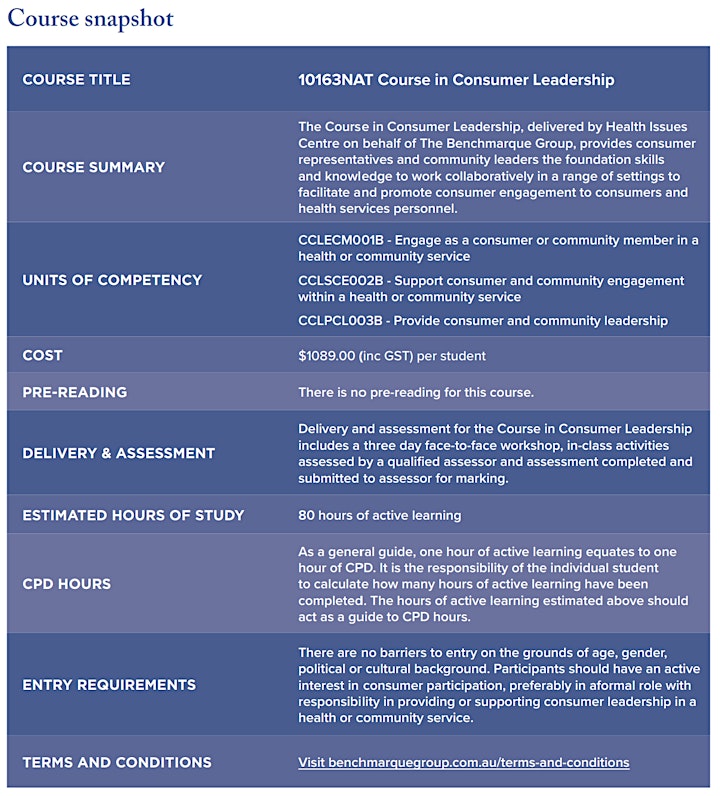 About the Trainer, Dr. Tere Dawson
Dr. Tere Dawson is the Manager of Training and Development at Health Issues Centre. She has over 20 years of experience in consumer engagement and participation practice and research. She has an extensive research and academic background, a Masters of Public Health, a Masters and PhD in sociology and anthropology and has published widely.