Description
Bio-embracing technologies: Micro/Nano-scale devices to mimic or measure bio-systems
Professors Madhu Bhaskaran and Sharath Sriram
We held our first event in the series Spotlight on Couples in Biomedical Research last May. The second event in this series will feature Madhu Bhaskaran and Sharath Sriram from the School of Engineering at RMIT University. They will share their work in using nanotechnology to develop a range of devices that address real-world applications in partnership with industry. They will also discuss the challenges of managing a pressured academic life and its impact on the work-life balance.
PRESENTATION ABSTRACT
The Functional Materials and Microsystems Research Group harnesses discoveries at the convergence of engineering, materials science, physics, and chemistry to create new functional devices. We will delve into a world of nanotechnology that allows electronic materials to mimic and monitor biological systems.

Drawing inspiration from the human brain, and the synaptic cleft, we create nanoscale electronic memories. Ionic transport in the synaptic cleft is mimicked in ultra-thin oxides, enabling multi-state memories and time-dependent functionality. While creating complex memories for commercial applications, we also show bio-inspired performance with electronics with 10% of biological data.
Hard wearables such as smart watches are now ubiquitous, but conformal electronics that function as skin-like sensing surfaces are limited by materials challenges. Overcoming the challenges of integrating high-temperature-processed oxide thin films and polymer materials creates new opportunities in highly functional wearable sensors. We realise thin electronic patches that adhere to the skin that can measure and diagnose, monitoring environment around, on, and within us – while communicating wirelessly.
Industry and end-user benefit underpin all our activities and industry-partnered case studies for aged-care monitoring and early intervention for cardiovascular diseases are presented.
Our Presenters
Professors Madhu Bhaskaran and Sharath Sriram jointly lead the Functional Materials and Microsystems Research Group at RMIT University. The Group undertakes multidisciplinary research at the convergence of engineering, physics, chemistry, and biomedicine. The discoveries made at micro/nano-scales are transformed into prototypes often in partnership with industry.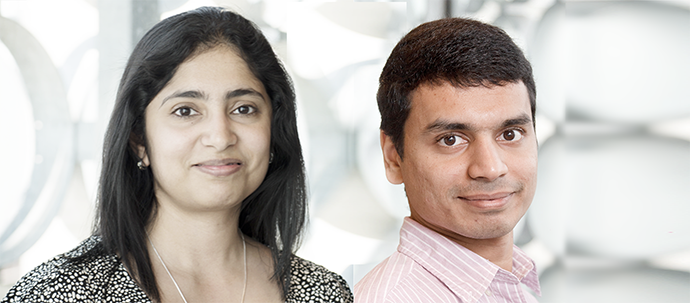 Professor Madhu Bhaskaran is an Australian Research Council Fellow and Associate Dean for Higher Degrees by Research in the School of Engineering at RMIT University. Her work seeks to transform conventional hard electronics into soft and unbreakable products, thin enough to create electronic skin. She has been named as one of Top 10 Innovators under 35 for Asia (MIT Technology Review 2016). She has also been recognised with a 2017 Eureka Prize for Outstanding Early Career Researcher, 2018 Batterham Medal, and 2018 APEC Aspire Prize.

Professor Sharath Sriram is the Founding Deputy Director and Scientific Coordinator of RMIT University's $30 million Micro Nano Research Facility. His focus is on unlocking new properties in ultra-thin electronic materials to mimic brain function, sense biometric parameters, and create high-speed communication technologies. A former Australian Research Council Fellow, his research excellence recognition includes the 2012 NMI Prize for Measurement Excellence from the National Measurement Institute, Australia; a 2012 Victoria Fellowship; the 2016 Australian Museum 3M Eureka Prize for Emerging Leader in Science; and being named among Australia's Most Innovative Engineers 2016 by Engineers Australia.
Date:

Monday, 20 May 2019
Venue:

Auditorium, Doherty Institute for Infection and Immunity
792 Elizabeth Street, Melbourne
Time:
6.00pm – 7.00pm.
Refreshments will be served from 5.00pm.