We invite you to take part in the Walk Against Domestic & Family Violence as part of the 16 Days of Activism against Gender-Based Violence
About this event
This has been coordinated through the City of Canada Bay Council in partnership with Inner West Council and the Inner West Domestic Violence Liaison Committee.
The 16 Days of Activism is an annual international campaign that commences on 25 November, the International Day for the Elimination of Violence against Women, and concludes on the 10th December, Human Rights Day. This campaign is one the Inner West Domestic Violence Committee has supported over the years through events, campaigns and community workshops.
Local Government plays an important role in raising awareness in domestic and family violence, which is done through working in partnership with the sector, campaigning particularly engaging with the community to work towards positive change.
The Walk Against Domestic and Family Violence encourages local government, police, and the broader sector to stand together in support for women and children who have been impacted by domestic and family violence.All of community welcome! Please wear orange if you have it!
The walk is approximately 4km return, transport and morning tea will be available at Peace Park, Lilyfield (after 2kms). Please contact Melissa Blain-Woodley on 99116244 or melissa.blain-woodley@canadabay.nsw.gov.au @ Canada Bay Council for more information.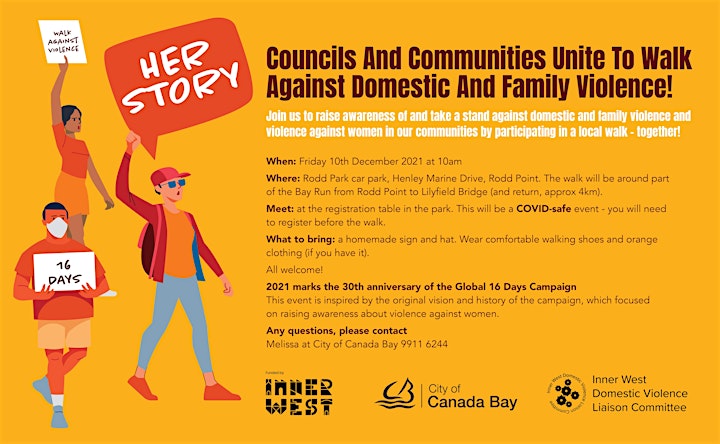 Organiser of Councils and Communities Unite to Walk Against Domestic & Family Violence