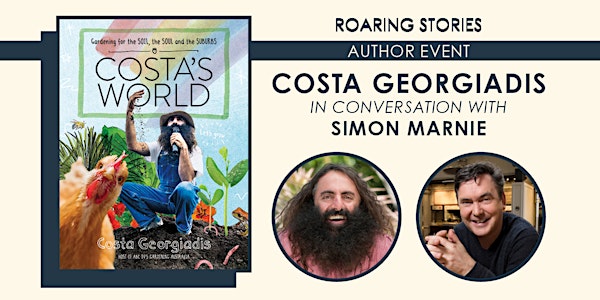 Costa Georgiadis in conversation with Simon Marnie | Costa's World
The beloved host of ABC TV's Gardening Australia talks with Simon Marnie about his long-awaited gardening book Costa's World.
About this event
Join Costa in conversation about gardening for the soul, the soil and the suburbs with Simon Marnie, Presenter of ABC Sydney Radio's Weekend Mornings program. The event coincides with the release of Costa's new book, Costa's World – a book for the whole family that reflects Costa's philosophy and big-hearted sense of fun, and which brings together all of his gardening and sustainability knowledge.
Doors open at 6pm. Attendees are asked to arrive at 6.30pm or earlier for a 7pm start. Seating is unallocated – another reason to arrive early to secure an optimal spot! The bar opens 6pm and closes at 9.30pm on the night of the event, making for an opportune time to settle in and grab a drink before or after, with an incredible range of locally brewed beers and other beverages to enjoy.
There'll be plenty of delicious food available too thanks to special event caterer IRIE, Caribbean street food specialists, so why not make a full evening of it and come for dinner too?
Costa's World will be available for purchase at the venue through Roaring Stories, with book signings from Costa following the discussion.
For those who can't make it in person, the event will be livestreamed from Roaring Stories Facebook page (accessible on the Home page and from the Live tab), and available to view later as an upload on the Roaring Stories YouTube channel.
~ ~ ~ ~ ~ ~ ~ ~ ~ ~ ~ ~
ABOUT COSTA'S WORLD
Costa's World is a generous, joyous, fully illustrated gardening book that celebrates the life-changing joy of chooks; kids in the garden; big ideas for small spaces; Costa's favourite plants; growing the right plants for your conditions; biodiversity in the soil and garden; the power of community; the brilliance of bees and pollinators; easy-peasy permaculture; and much, much more. Bringing together all of Costa's gardening and sustainability knowledge, this is a book for the whole family that reflects Costa's philosophy and quirky sense of fun.
~ ~ ~ ~ ~ ~ ~ ~ ~ ~ ~ ~
ABOUT COSTA GEORGIADIS
Costa Georgiadis is a landscape architect, environmental educator and television presenter who has an all-consuming passion for plants and people. As co-creator and host of Costa's Garden Odyssey for SBS, he caught the attention of a nation. Since 2013, Costa has continued his journey as the much-loved host of one of the ABC's most iconic and Logie award-winning programs, Gardening Australia. Beyond the screen, Costa is deeply involved with the importance of biodiversity and habitat, regenerative agriculture, permaculture and holistic land practices that deal with the issues arising from a rapidly urbanising world. He lives and breathes gardening, relishing the natural world and our connection to it.
~ ~ ~ ~ ~ ~ ~ ~ ~ ~ ~ ~
ABOUT SIMON MARNIE
Simon Marnie is an Australian radio and TV presenter, currently presenting ABC Radio Sydney's Weekend Mornings program. Beginning at Triple J and going on to host NightLife on ABC Radio, he has worked in community and commercial broadcasting, both behind the scenes and in front of the microphone. Beyond radio, he conceived and produced SBS TV's music show, nomad. He lives in Sydney.
~ ~ ~ ~ ~ ~ ~ ~ ~ ~ ~ ~
ABOUT WHITE BAY BEER CO
White Bay Beer Company is the Balmain peninsula's first microbrewery, a welcoming 'working classy' space located in a huge renovated 150-year-old steel mill. The White Bay team brew a wide range of incredible local craft brews – from their smash hit Union Lager, to tropical pale ales, to cold IPA's like Grandma's XO and imperial stouts like Chubby Ape. The venue is fully accessible, and with an open bar before, during and after the event. Entry signage will be clearly visible on the night of the event, with street parking in the surrounding area and bus stops nearby.
~ ~ ~ ~ ~ ~ ~ ~ ~ ~ ~ ~
TERMS & CONDITIONS
a) COVID Safety
This is a COVID Safe event. Attendance is conditional on compliance with relevant NSW Heath COVID Safe guidelines. All attendees must:
Show proof of double vaccination before entry
Scan in via QR Code upon entry
Wear a mask and maintain safe social distancing during book signings
b) Refunds
Please note that tickets are non-refundable unless the event is cancelled or postponed due to extenuating circumstances.
~ ~ ~ ~ ~ ~ ~ ~ ~ ~ ~ ~
This event is presented by Roaring Stories Bookshop Balmain and Harper Collins Publishers Australia
With thanks to our venue partner White Bay Beer Co
~ ~ ~ ~ ~ ~ ~ ~ ~ ~ ~ ~
Follow Roaring Stories and join the conversation
Organiser of Costa Georgiadis in conversation with Simon Marnie | Costa's World