EQUINOX FAST TRACK 1-Day Training Course | Combined introduction to Cosmetic Nursing and Foundations of Wrinkle Relaxer Treatment.
About this Event
A NEW CAREER IN COSMETIC NURSING
PERTH WESTERN AUSTRALIA TRAINING
With this 1-day EQUINOX Cosmetic Nursing and Wrinkle Relaxer Training Course you Fast Track your Career into Cosmetic Nursing.
RESTRICTED TO REGISTERED NURSES
MUST HAVE CURRENT UNRESTRICTED REGISTRATION WITH AHPRA
This training course is for non-surgical cosmetic treatments, it is ONLY open for Registered Nurses wanting to gain entry to the field of cosmetic nursing. This course is an entry path into dermal therapy training.
COURSE CONTENT PART 1.
INTRODUCTION TO COSMETIC NURSING
Summary of Content
Principles of Aesthetic Nursing
Health and Safety
Legislation and legal aspects
AHPRA codes and policies
Facial anatomy- Muscles, Vasculature and Vectors
Facial aging
Principles of aesthetic consultation
Photography in aesthetics
Consent
Handling client expectations and complaints
COURSE CONTENT PART 2.
FOUNDATIONS OF WRINKLE RELAXER TREATMENTS.
Summary of Content
History of Anti wrinkle injections
Anti wrinkle injections in practice
Core knowledge
Dilution ,reconstitution and storage requirements
Dosages in practice
Doctor consultation and prescribing
Client preparation
Injection techniques and practice
Post care advice
Documentation
Side effects and how to deal with them
Teaching and Learning Methods
Blend of theory and practical elements
Pre course theory
Visual presentations;
Demonstrations;
Practical tasks and
Group activities.
Assessment and Certification
Each of the two parts are recognised as 4-hours of CPD.
8-hours of CPD for the full day course.
There are both theory and practical assessments for this course
An Australian Academy of Cosmetic Nursing certificate will be issued on successful completion of your course.
This course will provide 4 hours of CPD
REGISTER NOW
PLACES ARE LIMITED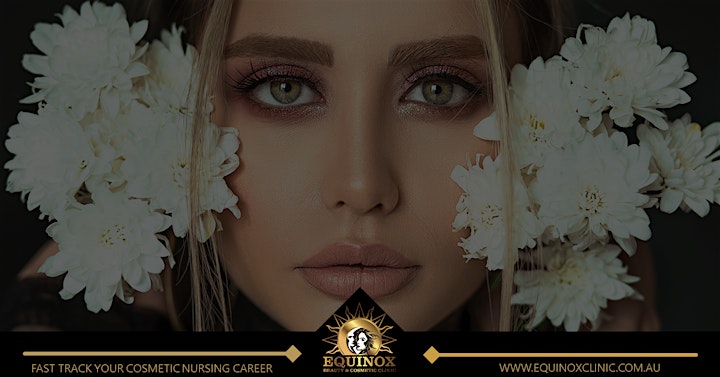 For more on Equinox Beauty and Cosmetic Clinic