Description
The Melbourne Children's campus is delighted to host the 2nd biennial Cortical Connections symposium in Melbourne in 2017.
This follows the very successful inaugural symposium at the Queensland Brain Institute in 2015. The symposium is a one day meeting with talks by leading national and international researchers on normal and abnormal brain development.
The symposium is multidisciplinary and includes speakers from the fields of developmental neuroscience, laboratory genetics, clinical genetics, paediatric neurology, neuroimaging and neuropsychology. The aim of the symposium is to identify themes and future research directions in the field of brain development and to foster national and international collaboration.
The symposium will be held in the Ella Latham Auditorium within the Royal Children's Hospital and is free to attend. The symposium is suited to clinicians and researchers in the field of neurodevelopment.
The program is outlined below and the program booklet is available for download via this link: Cortical Connections 2017_Program. If you plan to attend, please print or download the program booklet to your electronic device as printed booklets will not be provided on the day.
Morning tea, a light lunch and afternoon tea will be provided.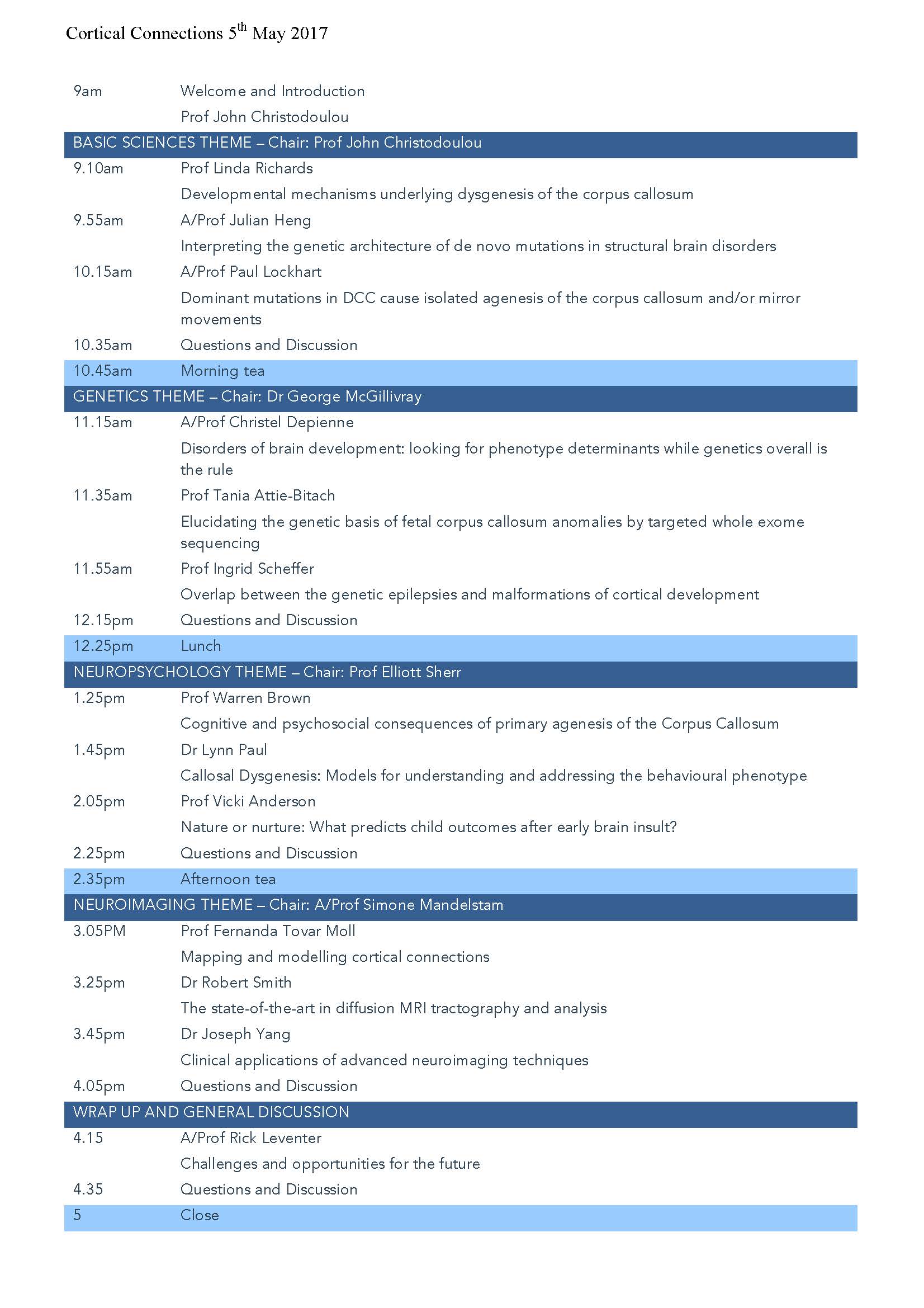 Confirmed speakers:
Prof Linda Richards: Queensland Brain Institute The University of Queensland
A/Prof Julian Heng: Harry Perkins Institute of Medical Research, University of Western Perth
A/Prof Paul Lockhart: Murdoch Childrens Research Institute and University of Melbourne
A/Prof Christel Depienne: Institute of Genetics and Molecular and Cellular Biology, Universite ́ de Strasbourg and Institut de Génétique Médicale d'Alsace, Hôpitaux Universitaires de Strasbourg, France
Prof Tania Attie-Bitach: Institut Imagine, Hôpital Necker Enfants Malades and Paris Descartes - Sorbonne Paris Cité University, Paris, France;
Prof Ingrid Scheffer: Florey Institute of Neuroscience and Mental Health, Austin Health and Royal Children's Hospital University of Melbourne
Dr Lynn Paul: Division of Humanities and Social Sciences, Caltech, Pasadena, USA
Prof Vicki Anderson: Murdoch Childrens Research Institute, The Royal Children's Hospital and University of Melbourne
Prof Warren Brown: Travis Research Institute, Fuller Theological Seminary, Pasadena, USA.
Prof Fernanda Tovar-Moll: Institute for Biomedical Sciences, Federal University of Rio de Janeiro and D'Or Institute for Research and Education (IDOR), Rio de Janeiro, Brazil,
A/Prof Richard Leventer: Murdoch Childrens Research Institute, The Royal Children's Hospital and University of Melbourne
Dr Robert Smith: Melbourne Brain Centre, Florey Institute of Neuroscience and Mental Health
Dr Joseph Yang: Royal Children's Hospital, Department of Neurosurgery, and Murdoch Childrens Research Institute
Enquiries: kate.pope@mcri.edu.au