Event Information
Location
Online Webinar (link will be provided to registered users)
Australia
Description
Why a Corporate Accelerator program?
The average company lifespan has dropped from 60 in the mid-20th Century to just 12 years today, due to increasing waves of technology disruption and lower barriers to entry for new players.
Almost every industry is going to face untold upheaval over the next decade due to the proliferation and convergence of AI, automation, blockchain, cloud, IoT, big data and more.
The challenge for most incumbents is that their organisations have been built to deliver on existing business models, not necessarily discover new ones, and reorganising the organisation around these new objectives, without compromising the core business, is a Herculean task, and a marathon rather than a sprint.
This is why investment into startups from corporate venture capital (CVC) arms has skyrocketed in recent years. In 2017 alone, CVC activity reached a new high with US$1.8 trillion being poured into startups. In addition to merely investing in startups, a growing number of companies are establishing industry-aligned accelerator programs to actively work with startups.
This includes organisations like Microsoft, Airbus, BNP Paribas, Citigroup, Citrix, Deloitte, Barclays, Village Digital, Charter Hall, EY, IBM, Google, ING Group, Mastercard, Mondelez, Qualcomm, Telefonica, Telstra, Unilever and numerous others.
Tune in to this webinar to hear from Steve Glaveski, Collective Campus CEO, on the what, why and how of corporate startup accelerator programs.
What you will learn:

What a corporate accelerator program is

Why you would run an accelerator program

Benefits of running an accelerator program

Whether an accelerator program is right for your organisation

What kind of commitment is expected from sponsoring organisations

How your organisation's employees can engage with an accelerator program

How to get the most benefit out of an accelerator program

Investing in accelerated startups

What a CC accelerator program looks like

Case studies

Q&A
About the Webinar Host
Steve Glaveski is an entrepreneur, keynote speaker, author and podcast host.
He is the Co-Founder and CEO of Collective Campus, an innovation hub, school and consultancy based in Melbourne and Singapore, that works with large organisations to help them adopt mindsets, methods and tools to successfully explore new business models in an era of rapid change.
Steve's team has helped large financial services, telco and legal services companies with their innovation goals. His client list includes the likes of Telstra, National Australia Bank, Clifford Chance, King & Wood Mallesons, Maddocks, Mills Oakley, Village Digital, Charter Hall, Australian Unity, MetLife Insurance and Sportsbet.
Collective Campus has also been home to and incubated over 50 startups which have collectively raised more than US$13M.
Steve wrote the Innovation Manager's Handbook which was an Amazon bestseller, hosts two podcasts, Corporate Innovation School and Future² which won the inaugural Australian podcasting people's choice award in the Business category. and is a keynote speaker on the topic of corporate innovation, having graced the stage at conferences such as Pause Fest, CPA Congress and IBM Symposium.
He previously founded HOTDESK, an office sharing platform and has worked for the likes of Westpac, Dun & Bradstreet, the Victorian Auditor General's Office, Ernst & Young, KPMG and Macquarie Bank.
About Collective Campus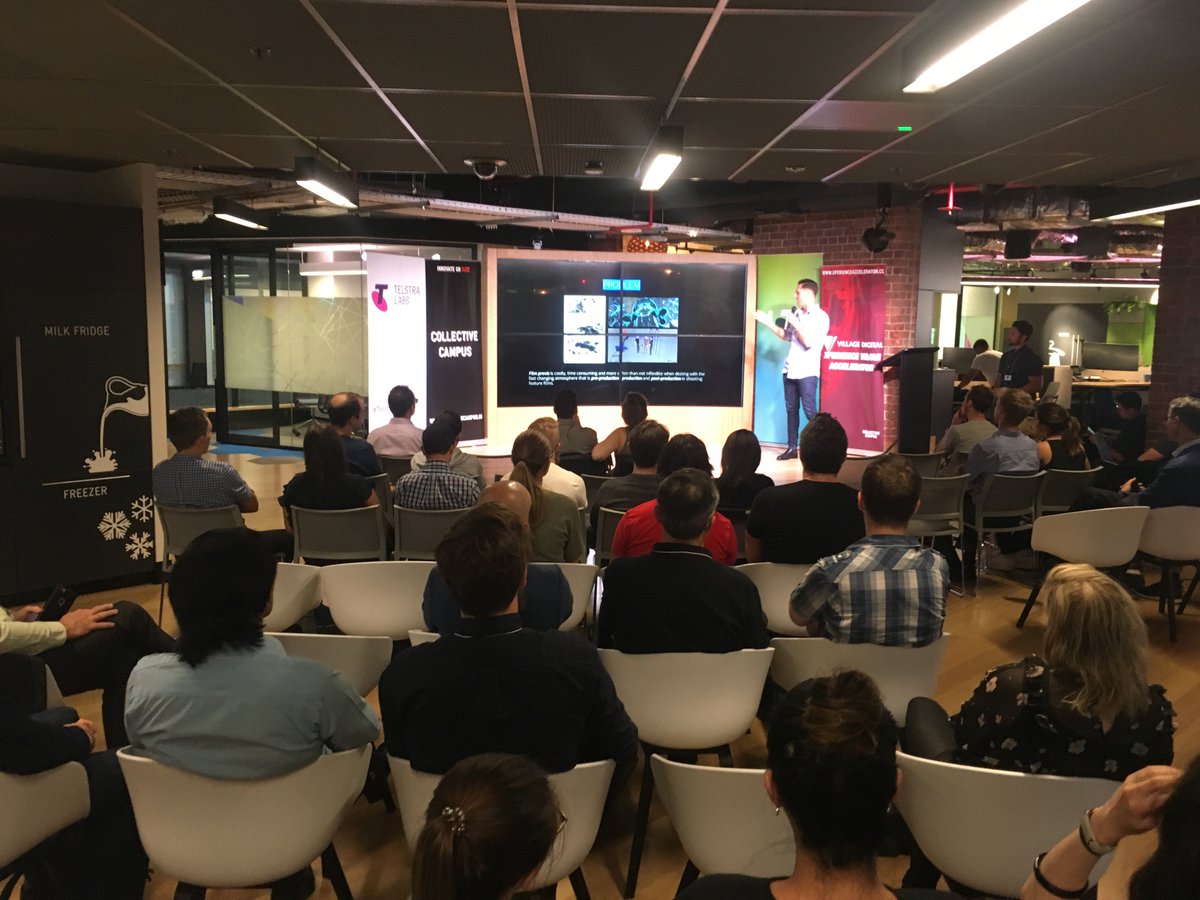 Startup pitching in action at the Village Digital Xperience Accelerator, powered by Collective Campus
Collective Campus is an innovation school and consultancy based in Australia and Singapore that works with large corporates and startups to help them adopt the mindsets, methods and tools required to explore new business models and innovate in an era of rapid disruption.
Collective Campus has run accelerator programs with the likes of Microsoft, Village Digital, Charter Hall and Mills Oakley and has incubated over 50 startups who have gone on to raise more than US$12M.
CC has helped organisations such as Asahi, Ascendas-Singbridge, Australian Unity, BNP Paribas, Charter Hall, Clifford Chance, King & Wood Mallesons, MetLife Insurance, Mills Oakley, Microsoft, National Australia Bank, Singapore Pools, Singapore American School (SAS), Sportsbet, Telstra and Village Roadshow among others.
If your organisation needs help coming up with ideas, testing and turning ideas into reality, incubating project teams, driving cultural change, training staff in emerging skill-sets and technologies, or connecting and partnering with startups, then CC can help.
Find out more at www.collectivecampus.io
Date and Time
Location
Online Webinar (link will be provided to registered users)
Australia