Sales Have Ended
Ticket sales have ended
Online tickets to Cornucopia NYE 2021 have sold out! There may be a handful of tickets available on the door: please message or follow www.facebook.com/CornucopiaOz for updates.
Sales Have Ended
Ticket sales have ended
Online tickets to Cornucopia NYE 2021 have sold out! There may be a handful of tickets available on the door: please message or follow www.facebook.com/CornucopiaOz for updates.
CORNUCOPIA 2021 is a fun & inclusive 2-night LGBTQ+ cultural, music & dance festival celebrating NYE on beautiful Dyambrin (Tamborine Mtn)!
About this event
IMPORTANT PRIVATE PEGACORN PARTY UPDATE - 17/12/2021:
Due to some concerns around Omicron, Cornucopia NYE will now be a private event with our featured artists including Kitty Obsidian, Matt Vaughan & Stereogamous. As capacity is now strictly capped at 100 fully vaccinated guests there is only a very small handful of tickets left available & the event will be completely booked out in the near future. There are no changes for existing ticketholders. We hope you understand & look forward to welcoming all our guests to what will be a fun, fabulous, safe & intimate affair at Eagle Heights Hotel on 30 & 31 Dec 2021. 💖🏳️‍🌈🔥🥳💅🦄😘
-----------
GET READY TO GET YOUR BEST UNICORN ON WITH ALL OUR MAGICKAL PERFORMANCE ARTISTS (FEATURED BELOW INCL STEREOGAMOUS) ONLY @ CORNUCOPIA NYE 2021!
After the super special inaugural CORNUCOPIA NYE 2020, CORNUCOPIA returns to the iconic Eagle Heights Hotel this NYE 2021 as a fab, fun, safe & inclusive two-night LGBTQ+ community cultural, performance, music & dance festival experience.
Atop beautiful rainforested peak Dyambrin (Tamborine Mountain) amongst luscious surrounds, CORNUCOPIA NYE 2021 will feature a highly entertaining cabaret show appropriately named Queer Quabaret & hosted by the fabulous MISS KITTY OBSIDIAN from Wiradjuri/Kamilaroi Country with heaps more talented queer performers including the fantastic SOPHIE DELIGHTFUL, SCARLET TINKABELLE, CLARA CUPCAKES, TIMOTHY CHRISTOPHER RYAN & ARCHIE & AURORA ARSENIC!
Queer Quabaret will be served throughout a delicious dinner service on the evening of Thursday 30 Dec. The night will be topped off with super chill, cool & funky DJ set spun by GOAT SPOKESPERSON.
The following day Friday 31 Dec aka NYE 2021 will feature a funky/chill arvo drinks set by GOAT SPOKESPERSON, then later on starting at 8pm the fully fabulous dance party we've all been waiting for with stunning audiovisuals plus spectacular views of the Gold Coast! The party will showcase super special & talented queer DJs JACK HARDMËN & MATT VAUGHAN & closing with none other than the legendary DJ duo STEREOGAMOUS direct from Sydney taking you right up to 2am on NYD!
So be sure to get your best Unicorn on & join us on the magickal 36 hour journey celebrating NYE & togetherness that is CORNUCOPIA NYE 2021. :D
YOUR FAB MC: MISS KITTY OBSIDIAN!
Proud Wiradjuri/Kamilaroi Enby, hailed as aggressively Queer this cute cat has more curves then you can poke a stick at! With a hint of darkness behind their golden smile, Kitty has performed all over Australia with their special brand of burlesque and sideshow.
A staunch advocate for body positivity, LGBTIQ and BIPOC rights and representation Kitty has been producing their show Curves & Claws for 6 years to promote local, national and international talent. Baring all of their Autistic soul on stage to tell stories and share experiences in art, Kitty is determined to uplift and showcase the talent that runs deep in this country.
YOUR 1ST FAB DJ: GOAT SPOKESPERSON!
Goat Spokesperson is Melbourne-based & known for bouncy house / tech house / techno with soul and a touch of the psychedelic...
YOUR 2ND FAB DJ: JACK HARDMËN!
Jack Hardmën is the maniacal mastermind behind the musical mayhem at infamous Melbourne queer scene staple, Blankë POP.
His Illustrious career has seen him play a number of super exclusive kick-ons, the occasional paddock bashing 'bush doof', a sexy AF burlesque night, a couple of orgies, and has also seen him lay down the soundtrack to many a sweaty sauna session - in fact, too many to count.....................Oh, and there was that one warehouse party that got shut down before his set. That count's, right?
Jack's sound sits somewhere between chunky house & rolling melodic-techno, and will worm its way into your mind, set a row of tents up between your ears and echo around your cranium like reverb in a cathedral.
YOUR 3RD FAB DJ: MATT VAUGHAN!
Matt Vaughan is the brainchild and resident DJ behind one of Sydney's most revered queer parties, Loose Ends, which has now been running for over 15 years and thrives on a sense of musical adventurousness and truly inclusive queer partying.
Matt has also been playing all over Sydney and beyond for the last 20 years, from underground all-nighters, to fashion and art events. From big-time main rooms to micro loungerooms.
He's played pretty much any queer party in Australia you can think of, and had several stints playing the dancefloors of NYC and San Francisco.
His musical interests have very few bounds and his magic power is marrying the silly and serious, light and dark in a way that has sparked countless moments of dancefloor alchemy and even more glorious connections between dancers. Which is what it's all about!
YOUR FINAL FAB DJ DUO: STEREOGAMOUS (as if they need an intro)!
Stereogamous are music producers, sound stylists, activists, agathists and collaborators. They work with artists & institutions across many disciplines including dance, film, fashion, theatre, song & experimental art forms. They produce music and have worked with artists such as Yaeji, George Michael, Kylie, Grace Jones, LCD Sound System, RÜFÜS, Sia, The Presets, Brendan Maclean, Jamaica Moana and Shaun J Wright.
They have performed at major festivals (remember them?) including Glastonbury, Burning Man, Sydney Mardi Gras, pride festivals from Hobart to Helsinki as well as iconic clubbing institutions Berghain & Horse Meat Disco. They are music directors for Sydney Fashion Week & Melbourne Fashion Festival and sound tracked parades for in NYC, Paris and Barcelona. They have collaborated with designers Jenny Kee, Romance Was Born, Akira Isogawa, Philip Treacy, Mary Katrantzou, Carla Zampatti and several more for the past twenty years.
They are resident at Queerbourhood, a weekly LGBTIQA performance art night at The Bearded Tit now on its 6th year of bringing light and love to the nightlife.
They collaborate with cultural bodies & institutions such as The Powerhouse Museum, Performance Space, Sydney Mardi Gras, Carriageworks, National Gallery of Victoria, Force Majeure, The Red Rattler and Sydney Theatre.
Their mission is to participate, collude and participate in all mediums, sharing platforms for inducing positivity & resonating joy for all.
IMPORTANT INFO FOR ALL CORNUCOPIANS:
Please present your ticket to collect your special CORNUCOPIA NYE 2021 wristband from Eagle Heights Hotel anytime from 10am to 10pm on 30 and 31 Dec 2021. Keep your wristband on at all times as it is required to freely roam all the spaces & come & go from the LGBTQ+ safe space venue full of fun from 2pm 30 Dec 2021 through to 2am 1 Jan 2022.
Eagle Heights Hotel has accommodation on site all exclusively for CORNUCOPIA guests. Please note this accommodation is now FULLY BOOKED OUT. But don't fret as Dyambrin (Tamborine Mountain) boasts a plentiful & very wide range of alternative accommodation options (including camping) to suit all lifestyles. Please browse all the options here:
https://visittamborinemountain.com.au/accommodation-on-tamborine-mountain-types
When you have booked accommodation, please make sure you email us at kx76productions@gmail.com where you are staying to have the address added as a stop on the complimentary continuously buzzing afternoon/evening/night fruity loop Honey Bea Shuttle Bus route that was such a huge hit last year! Please ensure you are appropriately attired when entering & leaving the venue.
CORNUCOPIA at Eagle Heights Hotel is strictly 18+ and is wheelchair accessible with disabled toilets & is COVID-safe. CORNUCOPIA is also a sustainable event where recycling is encouraged & facilitated & carbon emissions will be offset once again with a much needed & appreciated donation of $2.50 per ticket sold (that's a whole new tree) to Tamborine Mountain Landcare (that works very hard restoring disturbed rainforest) on behalf of Cornucopians.
Come & welcome 2022 in style & safety with friends old & new at CORNUCOPIA NYE 2021!
TICKETS (remember the special FAERY22 coupon code for our fabulous fans & followers like you & for reading this far):
https://cornucopia2021.eventbrite.com.au
REMINDER: QUEENSLAND WILL BE OPEN TO INTERSTATE VISITORS ON 13 DEC 2021! PLEASE CHECK OUT THE LATEST INFO HERE:
https://www.covid19.qld.gov.au/government-actions/queenslands-covid19-vaccine-plan
Regardless, ticketholders who may find themselves in the very unlikely position of being unable to enter Queensland for a COVID-related reason will be fully refunded within 14 days after the event upon request.
Follow us on Facebook: https://www.facebook.com/CornucopiaOz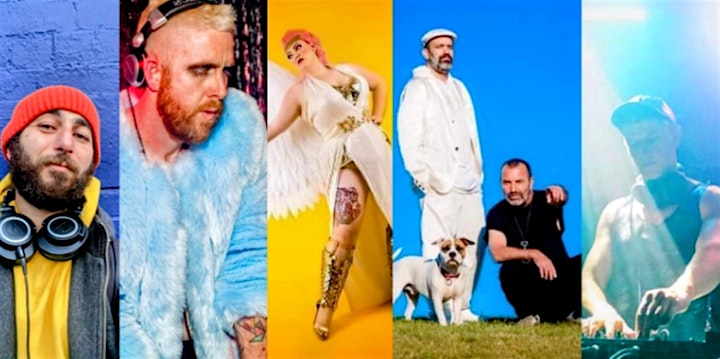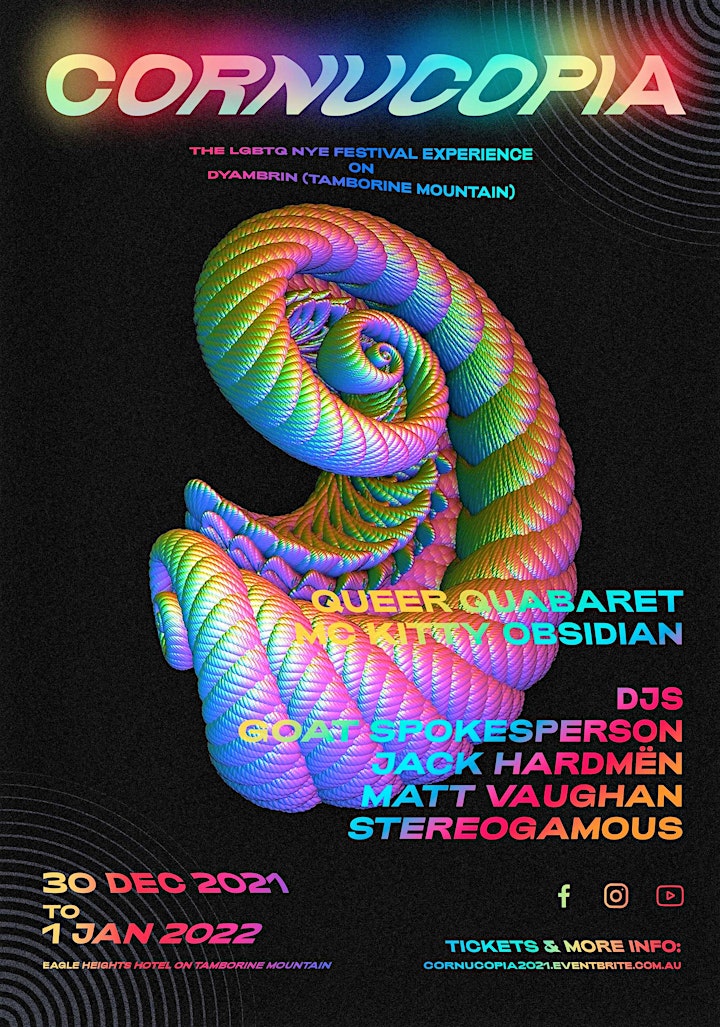 Organiser of CORNUCOPIA 2021: The LGBTQ+ NYE Festival on Dyambrin (Tamborine Mountain)!