Spend an evening under the stars, sipping on wine, tapping into your intuitive artist...
About this Event
Come along relax and unwind for an evening under the stars while tapping into your inner artist.
We all have the ability to imagine and create, sometimes we need to tame that inner critic so we can naturally find ourselves in our flow state. This evening is your journey back to that place of no limitations and let the magic flow right out to create your own Intuitive Ink Art.
This particular medium is beautiful, relaxing and abstract to work with, and can easily find yourself in a meditative state and just go with the flow and watch your own art piece come to life, and to help ease into the evening, enjoy a glass of wine with some nibbles as we begin the night with a meditation and followed with chilled out music for this 3 hour workshop.
Beautiful way to kick off your weekend as we start to head into these balmy summer nights.
What is included in the night
- all art supplies
-yupo paper
- gloves
- organic red/ white wine/ non alcoholic options are available as well
-platters of nibbles
- water to stay hydrated
-understanding how to use alcohol inks, creating layers and composition
- create up to 3 pieces of your own art work between A3 and A4 size to take home
This is approx a 3 hour workshop 6.30pm til 9.30pm, located in Grange SA
(address is provided upon purchase of ticket)
What you need
- clothes that if ink gets on them you wont mind (ink doesn't come out of clothes ;)
-*important- if you are drinking remember to be responsible, arrange an Uber or a lift to and from the event.
This workshop is perfect for anyone who is a beginner, looking to tap into their creativity, so bring your friends along and come and join a beautiful friendly relaxing evening under the stars. This is the first of many of these workshops for the summer, if you miss out this time, keep an eye out for the next up coming dates. All will be held on Friday evenings.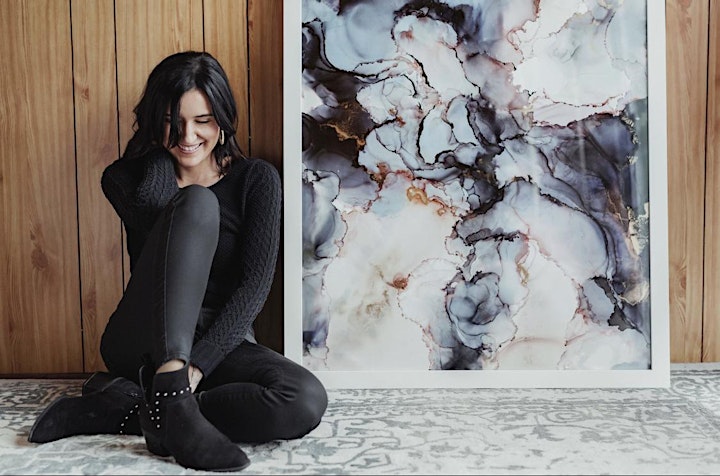 Meet Lauren, a Reiki healer, Reiki Master, NLP/ Hypnotherapy practitioner, who has developed her ability to tune into people's energy and bring their essence to life using ink art. While she is passionate in her own work she is a big believer in everyone connecting to their passion what ever field of work they are drawn too.
Using a blend of coaching tools and energy work she adapts to your nature and works on areas to help you attain the best energy and mindset to achieve your goals.
Lauren loves community and is all about bringing people together, through teaching her Reiki workshops the past two years she recognises the importance of connection and how it opens other people to new experiences and self expansion.
If you would like to know more about Lauren and her services you can book via her website
www.laurenhutcheson.com.au
or follow on instagram
laurenhutcheson_innsaeihealing