Cooroy Community Bank are hosting a community forum to really help us understand what our community needs. JOIN THE CONVERSATION!
About this event
About this event
Bendigo Community Bank Cooroy is a bank that gives back to the Community & is always looking for ways to leave lasting community legacies.
At 5:30pm on Tuesday 28/08/21 Bendigo Community Bank Cooroy will be hosting at the Cooroy Community Hall a forum for local business, organisations, sporting clubs, event hosts & the like.
The forum will be a fun event where your pre-submitted project for funding throughout the 2021 - 2022 financial year may be chosen by the Panel for you to present a 3 minute pitch. Each pitch will be recorded on butchers' paper & hung on the walls.
Each person will receive 3 red dots on entry. Upon conclusion of all pitches chosen to present, each person can show their support by placing their red dots on their favourite community pitch. You may choose to use 1 dot to show your support across 3 different projects, or use all 3 dots on one presentation. The choice in which project you want to support is all yours.
The Directors from Bendigo Community Bank will review all pitches from our four community forums. Once the successful application(s) are announced, then the fun really begins in working together to realise the outcome for the local community.
If you already know you require funding support at some level for your local organisation, club, event etc from July 2021 to June 2022 - applications are now open - click here: https://sunnycoastcommunityconnection.com.au/cooroy-forum-oct-2021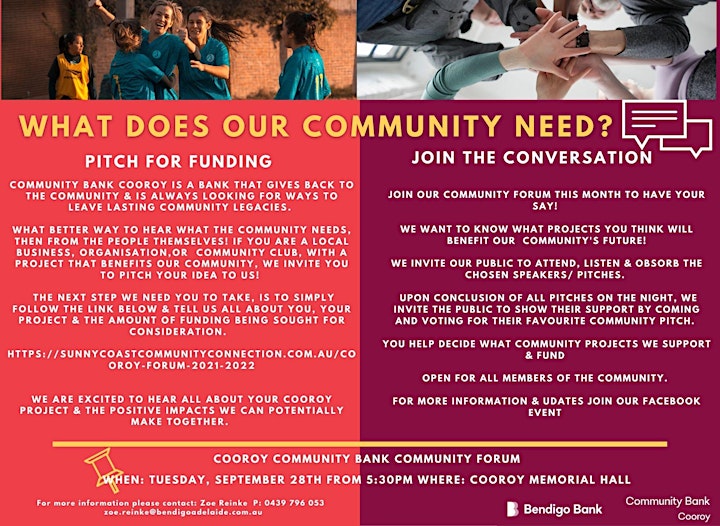 Organiser of Cooroy Community Forum