Location
Various locations
Princes Highway
Meningie, SA 5264
Australia
Visit Agtech Demonstration Farm at the Struan Research Centre and Tim and Georgie Leeming's Paradoo Prime at Pidgeon Ponds
About this event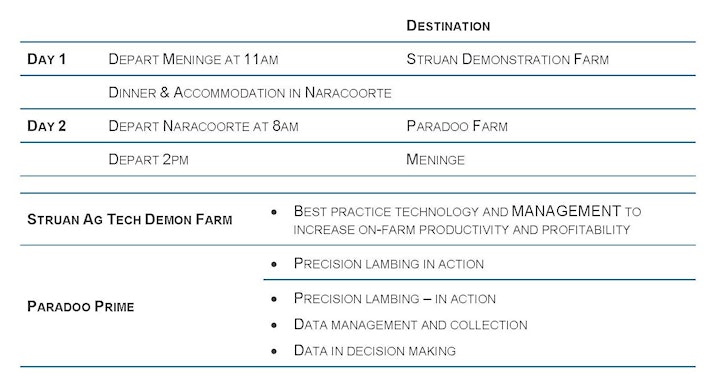 All accommodation, meals, bus and travel costs are funded by the Red Meat and Wool Growth Program
Registration
Please register your attendance not later than Friday 3 June 2022. I will need to know numbers for vehicle and accommodation bookings. The program and event format is subject to change in line with COVID-19 restrictions.
Contact
Ben Hebart | Mobile: 0428 102 904 | email: ben.hebart@sa.gov.au
Struan-Kybybolite Best Practice Demonstration Farm
The Struan and Kybybolite Farm are south-east of Adelaide, near Naracoorte and over 1,400 ha combined. The demonstration farms aim to:
encourage primary producers to use innovative farming practices and new technologies to improve their productivity and profitability
document and communicate improvements in the farm's physical and financial performance
demonstrate the use and value of new products and management practices
identify key farm decisions and processes that can be supported by AgTech.
https://www.pir.sa.gov.au/primary_industry/agtech/attend_demos/struan_kybybolite_demo_farms
Paradoo Prime – Tim and Georgie Leeming
Paradoo Prime is a modern, family farm with a strong focus on commercial farming to achieve profitable outcomes. We are focused on helping our clients achieve the best possible outcomes for their business.
https://www.paradooprime.com/