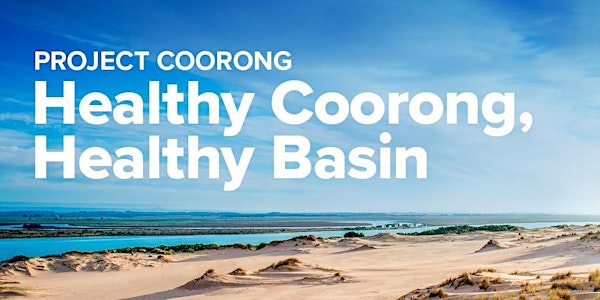 Coorong Infrastructure Investigations Community Online Open House
Come and talk to experts on the potential to improve the health of the Coorong South Lagoon.
About this event
The Department for Environment and Water (DEW) is currently asking the community to give its feedback on the Coorong Infrastructure Investigations Project (CIIP) draft Feasibility Assessment Report (FAR). Come and talk to experts on the potential to improve the health of the Coorong South Lagoon including the technical feasibility of a number of proposed infrastructure options.
Community members are encouraged to drop in to any one of our open house sessions to speak directly with subject experts and provide valuable feedback and advice. 30 minute blocks have been set up in order to stagger numbers, and allow for more intimate engagement with our experts.
Throughout 2021, DEW objectively assessed the technical feasibility and the environmental, social and cultural benefits and impacts of long-term management solutions to improve the health and resilience of the Coorong with particular emphasis on the South Lagoon.
A FAR has now been drafted. This report represents the combination of feasibility investigations that have occurred under the CIIP in Healthy Coorong, Healthy Basin Phase One.
DEW is committed to ensuring that the government's decisions and actions reflect the community's values and aspirations and incorporate local knowledge and expertise and is now asking the community to have its say on the draft CIIP Feasibility Assessment Report (FAR).
There are also a number of resources available for you to learn more about the Feasibility Assessment Report and the infrastructure options. A link to these resources and a survey will be automatically sent to you prior to this Open House event.
Consultations in February 2022 will focus on the key findings of the feasibility investigations. We will seek feedback from you, the community, to finalise the Feasibility Assessment Report, specifically in relation to the preferred option(s) to proceed in a business case.
Once we develop the business case, this will be submitted to the Australian Government for funding consideration. Further investigations to refine the preferred infrastructure and address knowledge gaps for approvals will need to occur prior to construction.
It is envisaged that Phase Two of Healthy Coorong, Healthy Basin will conduct these further investigations and begin to implement those long-term management options deemed feasible from 2022 onwards.
If you have any questions, please email projectcoorong@sa.gov.au.
This project is part of the South Australian Government's Healthy Coorong, Healthy Basin program, which is jointly funded by the Australian and South Australian governments.
*If this event is unable to take place due to COVID-19 restrictions, an online alternative will be made available to all registered participants.