Cool Company Awards 2016

Thursday, December 8, 2016 from 6:00 PM to 9:00 PM (AEDT)
Event Details
The Cool Company Awards is a fun way to celebrate the achievements of your organisation alongside like-minded business builders.

WHEN: 6pm - 9pm, Thursday 8 December 2015
WHERE: LAUNCHPAD, Cremorne Street, Richmond, VIC
DRESS: Like you do, with a touch of JUNGLE. (That's our theme. Roaw!)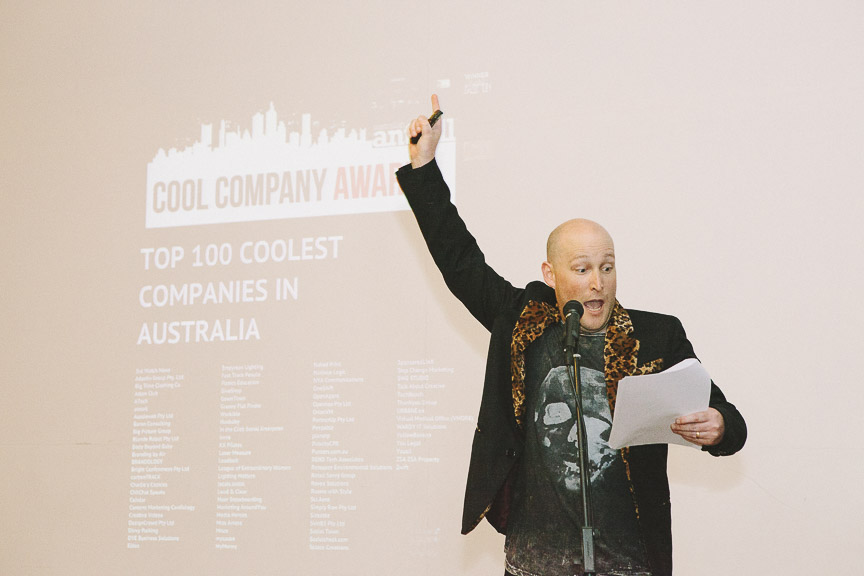 Building something great can be a hard slog.
But never forget that business can and SHOULD be fun.
When you're given a break, run with it. When you earn a win, celebrate it.
When the universe plants a rockin' beat on the turntable of your life, dance like EVERYONE is watching. (Shout your achievements from the roof-tops.)

Celebrate your awesomely cool organisation with other like-minded business builders for an underwater themed evening of fun, revelry and escapades.
TOP 100 SHORTLISTED BY ALPHABETICAL ORDER
1300GETTINT by Trublutint
A Not So Young Woman Abroad
AMPLIFY
Andzen
ANECSYS
Beach Harvest Australian Coconuts
Belle Fever
Black Lab Design
Body Beyond Baby
BONJORO (Vimily Pty Ltd)
Bright Conferences
Brightgreen
Buzinga
Caramelicious
Cashrewards
Cat Napping Suburban Retreat
Chill Enterprises Pty Ltd
Christmas Casuals
Coaching with Substance
Cuberider
Data Creative
Developing East Arnhem Limited
Enable IT Recycling
Enterprise Monkey Ptd Ltd.
Escrow.com
Evolution 7
Evolving Machine Intelligence Pty Ltd
Feel Better Box
finder.com.au
Fizzics Education
Game On - The Ultimate App for Sports Fans
Healthy Business Finances
HoMie
IdeaSpies
iMAGECLOUD
InfoTrack
Inspire CA
JAGONAL The Office Space Search Engine
Joviam Pty Ltd
KJR Australia
Laming Property
Linkfluencer Pty Ltd
Marketlend
Megaphone Marketing
Mobile Embrace Limited
MoneyMe Financial Group
Mummu Sport
Neto
Ocius Digital
Open Learning Global Pty Ltd
Optimising
OrionVM
Our Little Foxes
PaSME Pty Ltd
PHW Group Pty Ltd
PredictiveHire
Progressclaim.com
Quiip
Recipe4Change
she wear
SignManager
SixPivot
Social Garden
Social Media Perth (#SMPerth)
SponsoredLinX
Stone & Chalk
Studio Culture
Stylerunner
Tailor Projects
Tech Mpire
Thankyou
The Accounts Studio
The Laser Co
The Medicine Institute
top3 by design
Unscrabble
UPPERCUT DELUXE
Visual Domain
Vouchify
Warrior Forum
WINK Models
WME
Women Grow Oz
ySafe Solutions
ZACK Group
Ziva Connect Pty Ltd
See you on 8 December 2016!
When & Where

LaunchPad 3
132 Cremorne Street
Richmond, VIC 3121
Australia

Thursday, December 8, 2016 from 6:00 PM to 9:00 PM (AEDT)
Add to my calendar
Organizer
Select your capital city below.