Conversations with Artists: Raimund Hoghe

Sunday, 6 January 2013 at 4:00 pm (AEDT)
Event Details
Spend the new year with us at Critical Path at what promises to be a lively conversation between two highly acclaimed choreographers when Sydney-based Martin del Amo (Critical Path Artist Representative) interviews the internationally renowned choreographer and performer Raimund Hoghe.
Hoghe will talk informally about his piece in the Sydney Festival Sacre - The Rite of Spring, his initial career as a writer, his work as dramaturg with Pina Bausch's Tanztheater Wuppertal and much more.
This event in partnership with Sydney Festival.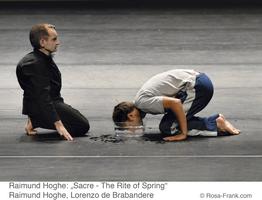 ABOUT RAIMUND HOGHE

Raimund Hoghe was born in Wuppertal, Germany and began his career writing portraits of outsiders and celebrities for the German weekly newspaper Die Zeit.  Throughout the 1980s he worked as a dramaturge for Pina Bausch's Tanztheater Wuppertal.  In 1992 he started creating his own productions in collaboration with fine artist Luca Giacomo Schulte and in 1994 he produced his first solo work for himself, Meinwärts, which together with the subsequent Chambre séparée (1997) and Another Dream (2000) made a trilogy for the 20th century. Since 2002, Hoghe also worked on group pieces including Young People, Old Voices (2002), Tanzgeschichten (2003), Swan Lake, 4 Acts (2005), also with De Brabandere. Hoghe has presented his performances all over Europe including Festival d'Avignon, Festival Montpellier Danse and Festival d'Automne in Paris.  He has been awarded several prizes including the Deutscher Produzentenpreis für Choreografie in 2001, and the French Prix de la Critique (2006) for Swan Lake, 4 Acts. The Magazin Ballet-tanz awarded him "Dancer of the Year" for 2008.
"Pier Paolo Pasolini wrote of throwing the body into the fight. These words inspired me to go on stage. Other inspirations are the reality around me, the time in which I live, my memories of history, people, images, feelings and the power and beauty of music and the confrontation with one's own body which, in my case, does not correspond with conventional ideals of beauty. To see bodies on stage that do not comply with the norm is important - not only with regard to history but also with regard to present developments, which are leading humans to the status of design objects. On the question of success: it is important to be able to work and to go your own way - with or without success. I simply do what I have to do. " Raimund Hoghe
ABOUT SACRE- THE RITE OF SPRING
In this intimate fusion of theatre and dance based on Igor Stravinsky's Le Sacre du Printemps, Raimund and Lorenzo de Brabandere form an unlikely partnership. Together and apart they enact ritualistic movements, their mirrored gestures reinforcing their physical disparity while building a mesmerising portrait of likeness, turbulence, desire and trust. Accompanied by the live performance of Stravinsky's adaptation for two pianos. http://www.sydneyfestival.org.au/2013/Dance/Sacre-The-Rite-Of-Spring/
When & Where

The Drill Hall (on Rushcutters Bay)
1C New Beach Rd
Darling Point, NSW 2027
Australia

Sunday, 6 January 2013 at 4:00 pm (AEDT)
Add to my calendar
Organiser
Critical Path
Critical Path is a choreographic research and development centre for dance artists in New South Wales, Australia, based at The Drill, a large rehearsal space on the harbour in central Sydney.
For enquiries, email admin@criticalpath.org.au
Support Critical Path by making a tax deductible donation today!
Conversations with Artists: Raimund Hoghe