Event Information
Refund Policy
Contact the organiser to request a refund.
Eventbrite's fee is nonrefundable.
Join Aboriginal leaders Karen Milward, Stephen Walsh, Sara Alden and special guests in a panel discussion on "Conversations from the Heart"
About this Event
EEON would like to warmly invite you to our last event for 2020 in partnership for the fifth year in a row with the Australian Intercultural Society
Join Aboriginal leaders Karen Milward, Stephen Walsh, Sara Alden, Karen Jackson for our last virtual event of the year on "Conversations from the Heart".
EEON would like to warmly invite you to our last event for 2020.
A relationship grows in positivity and strength when grounded in a foundation of truth. What is your organisation doing to walk together with courage?
Our panel will discuss the following
A reflection of 2020 and its challenges and learnings
How Aboriginal organisations have maintained what they do in 2020
Black Lives Matter
Uluru Statement from the Heart
Treaty, including laying the foundations, decision making framework and the story so far, including conversations with government and community
Economic empowerment and security - removing hurdles to recruitment
What we can learn, how we can listen, how we can heal?
Aboriginal and Torres Strait Islander voices have often led discussions at EEON forums and Summits. They form the backbone of our work at EEON. We are grateful for their generosity, knowledge and continued guidance and recognising the significant contributions that our Aboriginal and Torres Strait Islanders make to our country and our society.
Please come along for a thought provoking and heart-warming conversation that will inspire you and change how you approach 2021. We are proud to partner with the Australian Intercultural Society for the fifth year in a row.
Karen is a Yorta Yorta woman who was born and raised in Melbourne. Karen is a strong advocate for developing culturally appropriate solutions to the issues confronting Aboriginal and Torres Strait Islander people that empower individuals and communities so they can confidently and effectively move forward.
Karen owns and operates Karen Milward Consultancy Services (since 2004) and has extensive consulting experience and networks across Australia within all levels of government and with Aboriginal and Torres Strait Islander communities and organisations on a broad range of initiatives – especially those targeting Aboriginal and Torres Strait Islander communities. Karen has held senior policy and program management positions in Government and has been involved in Aboriginal Affairs all of her life and consulting in Aboriginal affairs for 20 years.
Karen has worked with 35 Aboriginal communities and their organisations in Victoria and with over 100 Aboriginal communities and their organisations nationally across all issues relevant to Aboriginal and Torres Strait Islander communities in Australia. Karen Milward has extensive experience in social research, with expertise in issues concerning Aboriginal communities and organisations, economic development, early intervention and prevention, children, young people and families, health, housing, drug and alcohol, family violence, native title, education, training and employment, cultural heritage, social justice, governance, leadership and Aboriginal cultural competence, cultural safety and responsiveness to government, corporate and mainstream services.
Karen's official positions include:
Chairperson of the Mullum Mullum Indigenous Gathering Place (EMR)
Chairperson – Kinaway Chamber of Commerce Victoria Ltd
Chairperson – Community First Development (formerly Indigenous Community Volunteers (ICV)
Director – Yarra Valley Water
Former Co-Chairperson – Victorian Aboriginal Economic Board
Fellowship for Indigenous Leadership
Alumni – Melbourne Business School MURRA Business Master Class Program
When Karen is not travelling the country doing her consultancy work she volunteers her time to further advancing the work and activities of the Aboriginal community organisations that she currently represents in Melbourne, Victoria, Australia.
Karen Jackson is Yorta Yorta, a Footscray resident and a member of many local western suburbs Aboriginal community groups and committees. She is an advocate for the recognition of Sovereign First Nation Peoples and traditional lands never ceded; for developing culturally safe spaces that enable Aboriginal people to aspire to personal, family and community goals; and the delivery of relevant tertiary education and community-based programs by Aboriginal people for Aboriginal people.
Karen is the Director of the Moondani Balluk Indigenous Academic Unit at Victoria University that aims to deliver Aboriginal curriculum by Aboriginal academics to all students, undertake community-led research, support Aboriginal students and engage in local Aboriginal empowerment. She is a member of the Western Metropolitan Regional Partnership that provides advice and direction to State government on the needs of local community. Karen was also previously a member of the Victorian Aboriginal Heritage Council, appointed as a Commissioner of the VEOHRC and Chair of the Western Metropolitan RAJAC.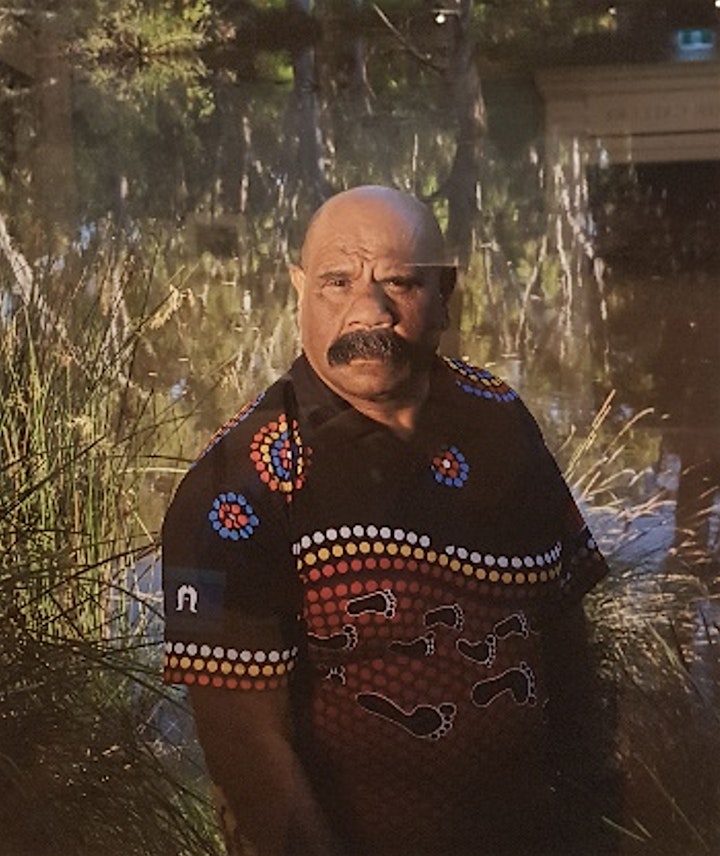 Stephen Walsh has done work and consultancy in the Community and public service for over 40 years as a respected community person and elder in the Wathaurong, Taungurong and Gunai/Kurnai communities.
Stephen is a Gunai & Taungurung man, born in Gippsland Victoria, growing up and living in Gippsland with his parents and 10 other siblings as a family, and part of the traditional life of Aboriginal people living in a regional town and attending government schools.
Since childhood Stephen has been with the Aboriginal communities in Gippsland and other parts of Victoria. For his working life he started in construction, public service and Aboriginal community employment that enabled Stephen to become more involved and a confident. School wasn't a big part of his early life until he became employed as an Aboriginal Educator in working in the Latrobe Valley area, when he also took up some small studies with the Gippsland Tafe and university that would provide more awareness for Stephen of Aboriginal culture and his family history.
Stephen has held several positions in the Local Aboriginal Cooperatives and other Aboriginal organisations. He was a Liaison officer with Victorian Aboriginal Legal Service back in the early 90's to assist Aboriginal people in the legal system and to work more closely with Police and courts, along with other Aboriginal officers in the legal service our task was to also create the Community Justice Panels for Aboriginal volunteers to work with Police and courts around the issues of people being locked up for public drunkness.
He worked with the VALS and the recommendations of the Deaths in Custody report. As time went on his employment and community roles included positions on Boards of Aboriginal Education, Victorian Aboriginal legal service, and Aboriginal community services. Stephen then entered the Public service with the Victorian Public Service Board as an Aboriginal Employment Officer, then to recruit people into the public service.
Since 2001 working with different Aboriginal communities and Public Service has given Stephen steps towards better outcomes and delivery for people in Career path opportunities.
He is a person who believes that, never take small steps if you have an opportunity to grab your future and what you want to do in your life - do it.  
  "Now as a grandfather and elder of my communities here in Victoria, I hope to see our voices and strengths be recognised with greater power for Aboriginal People".  
Sara Alden is a socially aware woman with a diverse background supporting people experiencing sexual trauma and safety issues. She is an advocate for mental health, First Nations rights, and decriminalisation of marginalised spaces. Currently working in Diversity and Inclusion for Emergency Services Telecommunication Authority, Sara is currently studying Laws and Social Science at Deakin University. Utilising trauma informed policies, she aims to create effective change through fostering equity for a variety of folks. Sara is passionate about maintaining global awareness to gender issues within complex changing social and cultural contexts. Pronouns are she / her.
Date and Time
Location
Refund Policy
Contact the organiser to request a refund.
Eventbrite's fee is nonrefundable.