Event Information
Refund policy
Contact the organiser to request a refund.
Eventbrite's fee is nonrefundable.
Continuing our conversations with indigenous leaders EEON presents part 2 of our Conversations From the Heart.
About this event
EEON warmly invites you to our June 16th event
A relationship grows in positivity and strength when grounded in a foundation of truth. What is your organisation doing to walk together with courage?
Join Aboriginal and Torres Strait Islander leaders Karen Milward, Kerry Arabena, and Stephen Walsh for our virtual event of the year on "Conversations from the Heart 2 – Keeping the momentum".
Our panel will discuss the following:
A reflection of the past year and its challenges and learnings
How Aboriginal organisations have maintained what they do in 2021
The 2021 budgets
What we can learn, how we can listen and how we can heal
Hopes, challenges and aspirations (grounded in a foundation of truth) and what walking together truly means in light of establishment of the truth telling commission
Understanding the experiences of those working on Treaty (including laying the foundations, decision making framework and the story so far)
Uluru Statement from the Heart
Black Lives Matter
30 years since the Royal Commission into Aboriginal Deaths in Custody
Conversations with government and community
Preparing young people
Leadership and decision making representation in politics, media, corporate and government
The Australian Peer Researcher Association – recognising the expertise and experience of community members as active partners in research
Future directions and translating conversation to action
Aboriginal and Torres Strait Islander voices have often led discussions at EEON forums and Summits. We recognise the significant contributions that they make to our country and our society. We are grateful for their generosity, knowledge and continued guidance.
Please come along for a thought-provoking and heart-warming conversation that will both inspire you and change how you approach 2021 and beyond.
Some Pre Reading
THE ULURU STATEMENT FROM THE HEART
Uluru Statement from the Heart awarded 2021 Sydney peace prize
Truth-telling paves the way to a brighter future - Ian Hamm
A Voice to Parliament, enshrined in the Constitution will give Indigenous Australians a say in matters that affect them. It's time we listened to their Voice. Join the From the Heart journey at www.fromtheheart.com.au
Book preorder: Freedom Day: Vincent Lingiari and the Story of the Wave Hill Walk-Off
Confirmed speakers
Prof. Kerry Arabena
Karen Milward
Stephen Walsh
Joanne Atkinson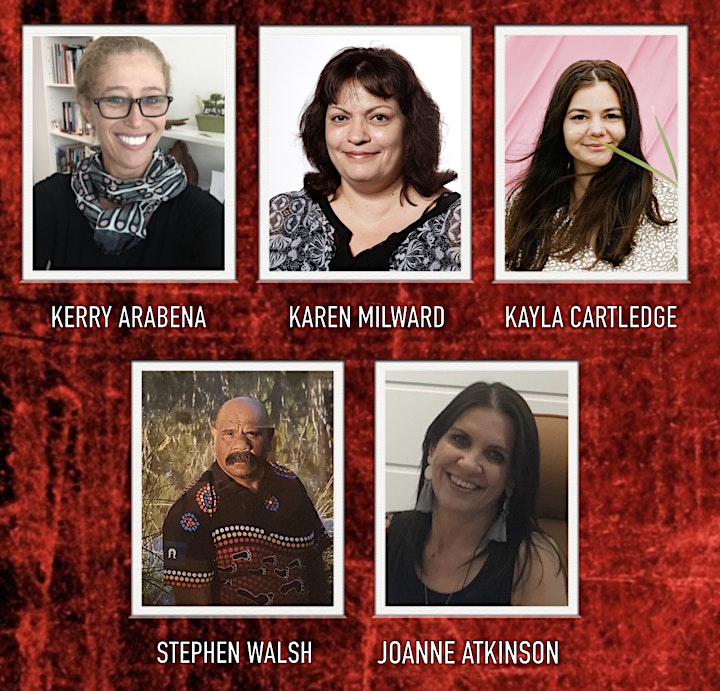 Professor Kerry Arabena
A descendant of the Meriam people from the Torres Strait, Kerry's work has brought her to the forefront of Indigenous affairs in Australia. A former social worker with a Doctorate in Environmental Science, Kerry has held senior positions including Chair of Indigenous Health at the University of Melbourne, Executive Director of First 1000 Days Australia, President of EcoHealth International, CEO of the Lowitja Institute, and Director of Indigenous Health Research at Monash University.
With an extensive background in public health, administration, community development and research, Kerry has led a wide range of organisations and committees including the National Aboriginal and Torres Strait Islander Health Equality Council and the National Congress of Australia's First People. Currently a Director of Kinaway Chamber of Commerce and Managing Director of First 1000 Days Australia (F1000DA) and Karabena Consulting. Kerry holds an honorary professorial position with the University of Melbourne and has a number of entrepreneurial programs in development.
Professor Kerry Arabena, Managing Director, of Karabena Consulting Trust and First 1000 Days Australia, Director of Kinaway Chamber of Commerce and President of EcoHealth International.
Karen Milward
Karen is a Yorta Yorta woman who was born and raised in Melbourne. Karen is a strong advocate for developing culturally appropriate solutions to the issues confronting Aboriginal and Torres Strait Islander people that empower individuals and communities so they can confidently and effectively move forward.
Karen owns and operates Karen Milward Consultancy Services and has extensive consulting experience and networks across Australia within all levels of government and with Aboriginal and Torres Strait Islander communities and organisations on a broad range of initiatives – especially those targeting Aboriginal and Torres Strait Islander communities. Karen has held senior policy and program management positions in Government and has been involved in Aboriginal Affairs all of her life and consulting in Aboriginal affairs for 20 years.
Karen has worked with 35 Aboriginal communities and their organisations in Victoria and with over 100 Aboriginal communities and their organisations nationally across all issues relevant to Aboriginal and Torres Strait Islander communities in Australia. Karen Milward has extensive experience in social research, with expertise in issues concerning Aboriginal communities and organisations, economic development, early intervention and prevention, children, young people and families, health, housing, drug and alcohol, family violence, native title, education, training and employment, cultural heritage, social justice, governance, leadership and Aboriginal cultural competence, cultural safety and responsiveness to government, corporate and mainstream services.
Kayla Cartledge
Kayla is a proud Gurindji Woman who was born on Larrakia land, now residing on Bunurong/Boon Wurrung land. With a double degree in Commerce and Property & Real Estate.
Kayla uses her skills to create real change for the Aboriginal and Torres Strait Islander Community. Kayla worked as a Business Analyst for government ensuring business best practice and cultural competence for projects and policy.
Kayla's latest role sees her as a manager within Kinaway, the Victorian Aboriginal Chamber of Commerce. Kayla is also a mentor for young people on the Mornington Peninsula providing support and career pathways for the Aboriginal and Torres Strait Islander community.
Stephen Walsh
Stephen Walsh has done work and consultancy in the Community and public service for over 40 years as a respected community person and elder in the Wathaurong, Taungurong and Gunai/Kurnai communities.
Stephen is a Gunai & Taungurung man, born in Gippsland Victoria, growing up and living in Gippsland with his parents and 10 other siblings as a family, and part of the traditional life of Aboriginal people living in a regional town and attending government schools.
Since childhood Stephen has been with the Aboriginal communities in Gippsland and other parts of Victoria. For his working life he started in construction, public service and Aboriginal community employment that enabled Stephen to become more involved and a confident. School wasn't a big part of his early life until he became employed as an Aboriginal Educator in working in the Latrobe Valley area, when he also took up some small studies with the Gippsland Tafe and university that would provide more awareness for Stephen of Aboriginal culture and his family history.
He is a person who believes that, never take small steps if you have an opportunity to grab your future and what you want to do in your life - do it.  
 "Now as a grandfather and elder of my communities here in Victoria, I hope to see our voices and strengths be recognised with greater power for Aboriginal People".  
Joanne Atkinson
Joanne Atkinson is the Manager of Koori Court, a therapeutic and cultural healing model available to Aboriginal children and young and adults in the criminal jurisdiction. Joanne works alongside Elders to ensure the court is incorporating a cultural conversation into the sentencing conversation in a very real and practical way.
Joanne has also works closely in the previous role as the 'Close the Health Gap Executive Officer', with the Inner North West Primary Care Partnership and was a driving force of the Symbols to Systems Framework, which aims to support and strengthen Aboriginal and Torres Strait Islander cultural security in mainstream organisations.
Joanne is passionate about making a positive difference for change to support healing and empowered and purpose filled lives.
Date and time
Location
Refund policy
Contact the organiser to request a refund.
Eventbrite's fee is nonrefundable.
Organiser of Conversations from the Heart - Keeping the Momentum
We are a forum for anyone interested in diversity, inclusion or equal employment opportunity issues, from CEOs to HR practitioners and beyond.
We aim to provide members with the latest information on current and emerging diversity and inclusion issues through in person events, forums and sharing on social media. Members of EEON are part of a dynamic and supportive network and new members are most welcome. More information about joining EEON, recent articles and info on upcoming events can be found on our website.