Description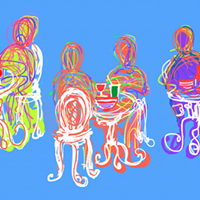 Do you feel that you would wish to meet more people, interesting and spirited?
And that you lack opportunity for having enjoyable and satisfying conversations?
That in today's world of relationships being so 'commercialised' and so much conducted on smart phones, real face to face conversing can almost be thought of as 'quaint'!
Would you like to get out more and have satisfying and enjoyable talk? In places where you will be accepted for who you are. In lively, friendly company in which this happens.
If so Converare events in the Adelaide Central Market are for you. Easy access, for some just a short walk.

For these gatherings are purposely designed for people to join in 'good talk'.
With these differences from other kinds of social event:
. There is no theme or topic to these events. The main activity is talking to one person, over a fine meal.

. A host who is a skilled facilitator welcomes all present and provides guidelines on the form of the gathering. Including making clear that 'whoever comes are the right people' and we do well to have in mind that we are here 'to give rather than to get'.
. Your dinner partner is someone you have not met before, a stranger. You choose who this is. Everybody present does the same. Everyone participates fully by being curious and interested about whoever it is they share the meal time.
. You don't need to know anyone who will be there. Coming by yourself is quite in order. Some people do bring friends. You may have someone in mind who you think would appreciate being invited to come with you.

Anybody who wishes to participate is welcome, no matter what your background.
Are you familiar with the Adelaide Central Market – in many people's minds 'the world's leading food and produce market'? If so you would likely imagine what a magical place it becomes when - after trading hours on weekday evenings - the Gouger Street Dining Area transforms into a meeting and greeting place. Which we have to ourselves!
On the 1st and 3rd Tuesday of each month, starting this year on 7 February.
If what you sense could be a 'real buzz among lively spirits' then get to it smartly with your booking(s) as places will likely fill quickly.
Note: For more about the backgroound to these events see www.conversare.net