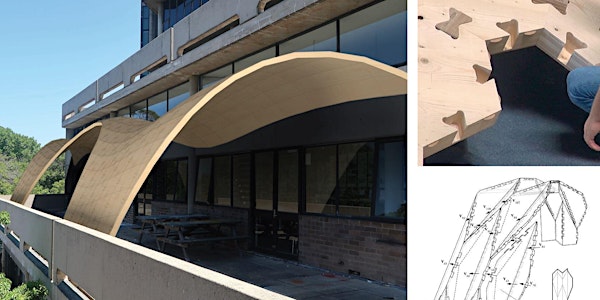 CONTINUING PROFESSIONAL EDUCATION - Digital Design and Fabrication of Timbe...
Event Information
Location
Wilkinson Building
Darlington, NSW 2008
Australia
Refund policy
Refunds up to 7 days before event
Description
3 HOURS FORMAL CPD WORKSHOP & LECTURE

Continuing Professional Development Course
Digital Design and Fabrication of Timber Plate Structures

This 2-hour continuing professional development course and 1-hour public lecture will introduce participants to computational design strategies for cutting-edge timber building technologies, including digital fabrication of integral timber joints and closed loop digital design workflows for timber plate structures.
Traditional wood joinery techniques have been successfully employed for hundreds of years in the construction of tall timber structures. Due to a resurgence in mass timber construction and a proliferation of computer-numerically controlled (CNC) fabrication machinery, these integral joints are again an economical and performative way to construct timber buildings.
Designed properly, integral joints introduce numerous structural and constructability benefits. These include greater control over part tolerances and mechanical behaviours; self-aligning and self-locking features for faster assembly; and reduced part production cost through optimization of material use and CNC fabrication time.
Such benefits can only be realised with a high degree of coordination between designer, fabricator, and builder. This course will allow participants to develop the skills required to achieve such coordination and deliver cutting-edge, digitally-integrated timber buildings.


PROGRAM
Date: Thursday 15 August 2019
Location: The School of Architecture, Design and Planning, The University of Sydney, 148 City Rd, Darlington, NSW 2008
Workshop: 4:00pm – 6:00pm
Public Lecture: 6:30pm – 7:30pm

TICKET COST
$70 per attendee


---
Jun. Prof. Dr. Christopher Robeller leads the Digital Timber Construction group DTC at TU Kaiserslautern. He is a registered architect and has previously worked as a postdoctoral researcher at the Swiss National Centre of Competence in Research Digital Fabrication NCCR dfab at ETH Zurich, as a doctoral assistant at the Timber Construction Laboratory IBOIS at EPFL Lausanne, and as a research associate at the Institute of Computational Design ICD, at the University of Stuttgart.
Christopher holds a Doctor of Sciences from the Swiss Federal Institute of Technology EPFL, and a Professional Diploma in Architecture with Distinction from London Metropolitan University.

His research of innovative timber structures, design for assembly and digital fabrication is widely published in scientific journals, books, conferences and exhibitions, and received the best paper award at the Advances in Architectural Geometry conference in 2014.
The research has been implemented in experimental structures including the ICD/itke pavilion 2010, the 2013 IBOIS curved folded wood pavilion and the 2018 X-fix Timberdome pavilion, as well as buildings such as the timber folded plate structure for the 2017 Vidy Theater in Lausanne and the 2018 Multihalle Manternach.

Learning outcomes and more information about this course can be found on the course website.


TICKETS FOR THIS EVENT ARE NOW BEING BOOKED THROUGH THE AIA REGISTRATION PAGE.
Date and time
Location
Wilkinson Building
Darlington, NSW 2008
Australia
Refund policy
Refunds up to 7 days before event