Conscious Work is a day to examine how we work and how we can better align our work with other parts of our lives www.consciouswork.org
About this event
We believe work should be rewarding, inspiring: a site for thriving. And we're guessing you do too.
Stress, burnout, exhaustion and disengagement are at record levels in our working lives. They're eroding our productivity and our wellbeing.
But work can be better..........
Conscious Work is a day to examine how we work and how we can better align our work lives with the meaning, mindfulness, health, happiness, purpose and productivity we all want to achieve.
We'll discover the mindsets and knowledge we need to work smarter and perform at our best, and the wisdom and cultural shifts required to rest more and feel better.
Do some good in the world for no other reason than wanting to be part of the solution". Cal Newport
WARNING:
This will not be an ordinary conference experience. There will be
NO fluro lighting
NO unnessary gift bag
NO awkward forced networking
NO snooze worthy keynotes or feeling like you are being talked AT rather than with
NO SELLING! No book promotions, no invitations to sign up to anything.
There will be:
Inspiring keynotes, panels and workshops. With a focus on actionable ideas you can implement quickly and seamlessly
Opportunities to JOIN the conversation around what topics such as conscious work, deep work, burnout mean to you.
Wholesome and healthy catering covering all dietry requirements and AMAZING coffee
Happy Hour from 5pm - 7.30pm plus an opportunity to browse The Conscious Space marketplace prior to doors opening to the public on Saturday 28th March
A gorgeous learning environment by the harbour, with plenty of natural light and space for quiet contemplation.
Confirmation of a day and money well spent.
Whether you are leading a team or company, or you are part of one, join us to consciously shape and rethink the way we work.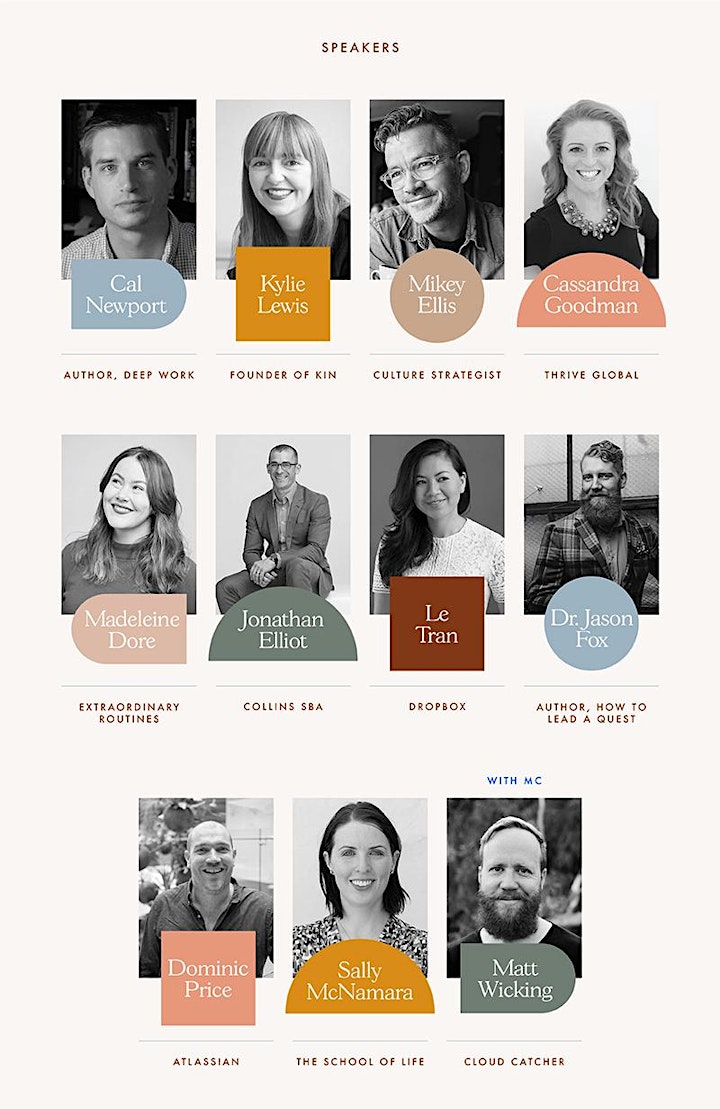 Thriving at work: Cassandra Goodman. Thrive Global
Arianna Huffington's famous Thrive Global team will deliver a module of their 'Thriving Performance' methodology. Thrive are successfully challenging mindsets and beliefs about productivity and the way we work using science and storytelling.Their philosophy is not about gym memberships & fruit baskets, it's about what drives behaviours and informs culture and how we evolve thinking and beliefs about work. For example, why do we believe we have to be connected 24/7? Would being at work less increase our productivity? We need to see a different reality - for our sleep, for our wellbeing, and for better relationships with our colleages, family and friends. Thrive will show us how.
Deep Work: Cal Newport
This exciting session will look at the ins and outs of deep work, attention, digital minimalism and forms of experimentation with the way we 'do' work and ultimately the way we are in the world. Madeleine Dore, author of the popular blog Extraordinary Routines and accountability experiment 'Side Project Sessions', will interview Cal Newport about his work over many years around how to live well and work consciously in a high tech world. Cal and Madeleine will be joined on stage by Dropbox's Head of Communications Le Tran, who think deeply about how we work and run experiments within their team, and Jonathon Elliot, Managing Director of a professional services firm who have successfully introduced a 5-hour work day.
Warm data lab: Christie Little
Warm Data Labs are facilitated group processes which illustrate interdependency within group dynamics and help to generate understandings of systems theory for people with no previous exposure to it. Warm Data Labs enable new societal responses to complex challenges. Christie Little will lead us through this fun, interactive session where we'll explore key questions, assumptions, differences and points of convergence in how we see the future of work. Be part of this groundbreaking and interactive new research tool!
purpose at work
Day-to-day work can all too easily make us feel bored or burnt out. For many of us, this is when we start fantasising about changing careers. But what we most often need is to feel reconnected to our underlying values and the long-term impact of the work at hand. According to a 2016 study, 85% of companies with a strongly defined sense of purpose showed positive growth in that year. In this session we will consider our personal talents and passions, and how they align with our role in the organisation and rediscover our core motivations and values, and consider how to prioritise among them. The School of Life for business teach emotional maturity as a key intelligence in the workplace of the future.