I'm looking forward to showing up in person and guiding people with these beautiful sounds, to wherever they need to go inside of themselves
About this event
The Conscious Clubhouse is a beautiful boutique venue located at Muse Crystals & Mystical Gifts in Loganholme Brisbane.
The Conscious Clubhouse is an alcohol free space providing a chilled high vibe atmosphere that presents unique artists who showcase their talents.
The Conscious Clubhouse is a fantastic place to relax and unwind as you sink into a beanbag and feel the awesome energy with likeminded people while enjoying sights and sounds that sooth the soul.
We start the night with a mixed circle to check in and sink into the space at 6pm.
7pm we provide nibbles and refreashments while mixing and mingling and creating cool friendships.
7:30pm is Show Time.
10:30pm we close.
The Conscious Clubhouse is an all ages venue.
Tonight we present DANIEL FOOTE
The first time I ever did this with 4 instruments, I lay down on my bed to absorb what I had just created, I cried in disbelief that I had finally been able to translate and express such a portion of the unspeakable beauty that I've experienced and felt stirring in my soul for so long.
That was several years ago, and the sound has only developed and grown, as I have developed and grown.
Weaving together enchanting soundscapes is such a fascinating process. As it builds from layer upon simple layer into something complex and beyond the sum of the parts. Each little sound having it's moment to pique the interest of our awareness, disappearing and returning again, renewed by the timing of it's absence and it's place among the choir of sounds.
So many times along my path, it's been my prayer that I would give up all of my musical ability for success on the spiritual path, and time and time again, my life would fall apart, only correcting in course once I started playing music and singing again.
Soon enough, it became clear to me, that I was denying my gifts, and the thing that puts me in touch with the spirit of life inside of me.
It's been a pleasure to discover just how everything changes when my Heart and Soul are in my music, and I'm invested in sharing it with the world, infused with purpose and as a deep part of my relationship with Myself and Divinity.
I put this video together from the recording of my first solo event, and am so glad with the way the night turned out.
I'm looking forward to showing up more, especially in person, guiding people with these beautiful sounds, to wherever they need to go inside of themselves.
If you're in the Brisbane area, come and join us at The Conscious Clubhouse o Friday 16th July, as we sail across these dreamscapes of sound and explore our inner worlds and the rhythms of our lives.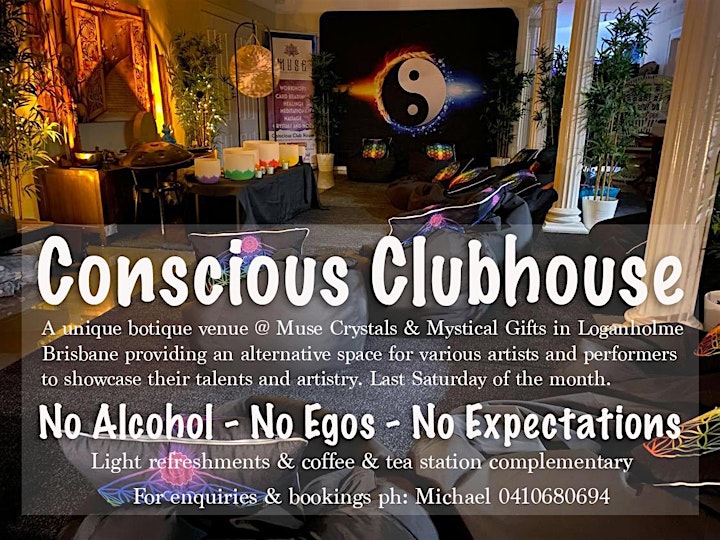 Organiser of Conscious Clubhouse presents DANIEL FOOTE - Sensory Sound Journey
SOUND BATH - SOUND HEALING
What is sound therapy?
Michael's healing vibes are channelled through the Native American Lakota Love Flute and generated through an eclectic range of percussion instruments that will open your heart and relax your mind.
Through his magical sound baths, he will take you on a journey that melts away all of the "things" that are filling your mind and lull you to a calm and restful experience throughout your whole body.
Sound healing therapy uses aspects of sound to improve physical and emotional health and well-being. The person being treated partakes in the experience with a trained practitioner. Sound therapy may involve:
listening to music
singing along to music
moving to the beat of the music
meditating
playing an instrument
Healing with sound is believed to date back to ancient Greece when music was used in an attempt to cure mental disorders. Throughout history, music has been used to boost morale in military troops, help people work faster and more productively, and even ward off evil spirits by chanting.
More recently, research has linked music to a number of health benefits, from boosting the immune system, relaxing the nervous system and lowering stress levels.