Connor Gregg Golf day fundraiser for westmead childrens hospital menometry
Connor Greggs Fundraiser for Westmead Childrens Hospital - Menometery Equipment Golf Day , Lunch and Auction.
About this event
Three-year-old Connor was born prematurely at 33 weeks with a non-functional bowel and in severe pain. His parents Whitney and David Gregg nearly lost him a few days later. At just two years of age, Connor has already endured 18 surgeries and spent more than 200 days in hospital. Despite all of this, specialists still don't have an exact diagnosis.
We are helping to raise money for a manometry machine for the Children's Hospital Westmead which will go a long way to helping Connor and children like him.
The machine maps out the bowel and measures the activity in different sections over a six-hour study and enables targeted treatment. This machine will greatly improve the quality of life for many children in NSW and the ACT who suffer from severe bowel conditions, like Connor's.
The Children's Hospital at Westmead is one of Australia's leading specialist medical centres for children, offering a safe and friendly healing environment for kids from NSW and beyond. The hospital's expert medical staff care for more than 84,000 critically ill and injured children each year.
You can help raise money for this much needed machine by participating in the fundraising golf day at Fairbairn Golf Club on 27 May 2021.
Any assistance you can provide is greatly appreciated by the Gregg family, and the Children's Hospital at Westmead.
Our Friend Greg Kimball has setup a fundraising page on the bandaged bear page here:
https://www.bandagedbear.org.au/fundraisers/gregkimball/fundraiser---manometry-equipment-for-chw
our Bandaged Bear Authority to fundraise is - ATF71490 and our bandaged bear fundraising Coordinator is Jazzie Martin if you would like to check the authenticity of this event
We will also be selling our silly socks which is how this whole fundraiser got started in the first place.
Further information in the images below.
We will also be holding an auction, raffle and lunch after the golf day with some very special prizes some of which have been created specifically for this event and donated by a significant local historical institution and more details will follow closer to the event.
For any questions and further information please contact connorgregg117@outlook.com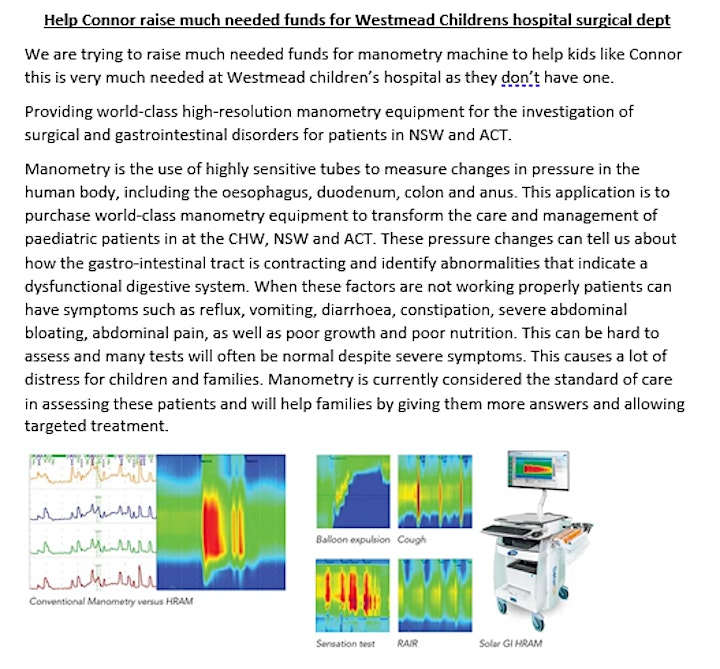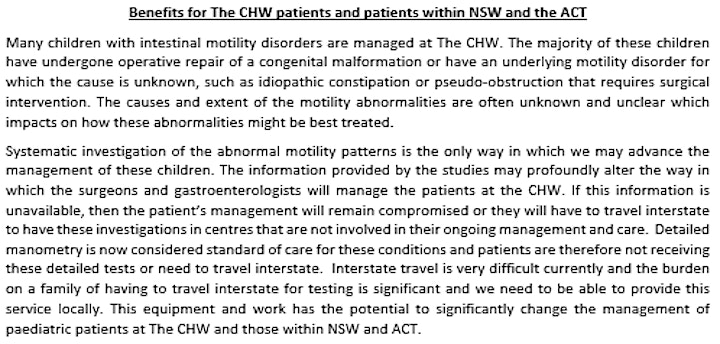 Organiser of Connor Gregg Golf day fundraiser for westmead childrens hospital menometry