Sales Have Ended
Registrations are closed
Oh no! Ticket Sales have now ended. If you would like to know more about Switch Tasmania or our upcoming events and workshops, please call (03) 6408 7005 or visit : www.switchtasmania.com.au
Sales Have Ended
Registrations are closed
Oh no! Ticket Sales have now ended. If you would like to know more about Switch Tasmania or our upcoming events and workshops, please call (03) 6408 7005 or visit : www.switchtasmania.com.au
Connecting With Customers Outside of King Island- Learn how to increase your business visibility online.
About this event
Are you struggling to extend the reach of your business outside of the Island?
King Island can feel isolated so it may seem difficult to sell your products, services and tourism ventures to an outside audience.
Learn how you can share your unique story with the world and connect with your potential customers in this FREE workshop facilitated by Erica Jeffrey from The Island Creative, our Small Business Marketing Mentor.
This event is for any Business owner who is ready to discover how to use social media & the web to reach buyers outside of King Island (and maybe even attract some of them back to the Island)!
What's covered?
• How to create a strategy and find a voice for your Online Marketing
• Developing your niche and ideal customers
• How to use your marketing to drive traffic to your website and business
Join Erica, our savvy Marketing Mentor, as she narrows down Online Marketing, in this unique FREE WORKSHOP for Small Business.
WORKSHOP EVENT:
7 Main Street, Currie
KING ISLAND - TAS
When? Monday, 19th April 2021
6:30pm-8:30pm
When you join up for our FREE ASBAS program, you will receive...
A digital needs assessment
Statewide workshops
1:1 digital mentoring session
Online learning
**For your Small Business to be eligible for the ASBAS Digital Solutions Program, you must be for profit, have an ABN and employee 19 employees or less.... JOIN TODAY HERE!**
Find Switch Tasmania on Facebook, check out our website www.switchtasmania.com.au or call 6408 7005 for more information .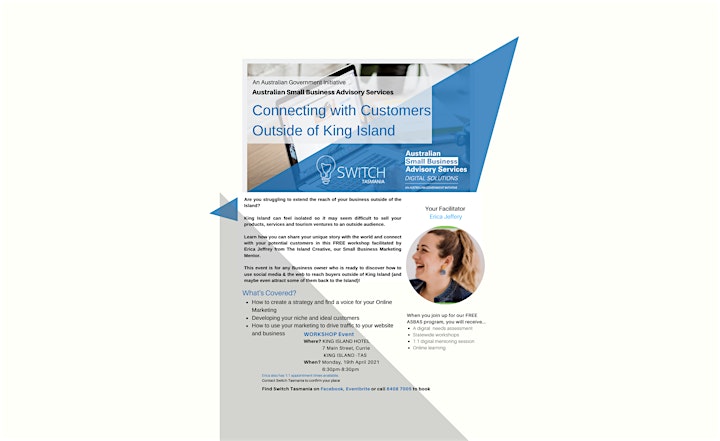 Organiser of Connecting with Customers Outside of King Island
Switch Tasmania has the contract for ASBAS Digital an Australian Government program that is providing direct education and mentorship to assist Australian small businesses to build their digital capability.
Through the program you can access: A series of workshops in your local area, Two hours of tailored mentoring and Webinars & online materials.
An Australian Business Number (ABN) is required to attend.