Assist local government Economic Development Officers understand tourism opportunities, make connections with key contacts & tourism centres
About this event
This half-day workshop is designed to provide local government Economic Development Officers with an understanding of tourism opportunities, link them with key contacts and share case studies. Small businesses, visitor centres and anyone wanting an understanding of how WA's tourism industry works will also gain valuable knowledge and connections from this workshop.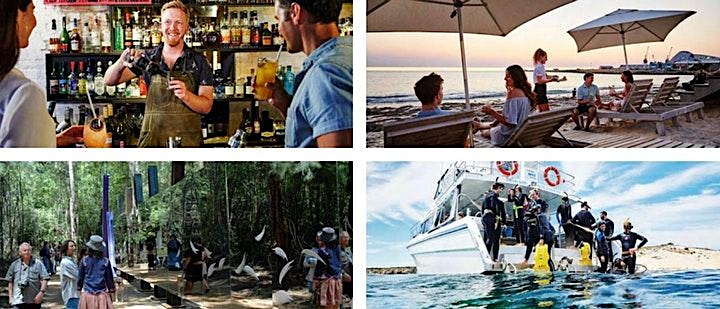 The workshop will deliver a practical guide to understanding the WA tourism industry - from learning about 'who's who' and the current and future focus of the industry, to understanding destination development and where your customers come from.
Learn first-hand from key industry representatives and innovative operators about how you can work at the local level to maximise the effectiveness of your product development, business planning, visitor servicing, interpretation and marketing.
Workshop Program — Thursday, 29 July 2021
12.45pm - Registration - complimentary coffee and tea available on arrival in the DBCA café
1.00pm - Welcome and role of FACET - Ryan Mossny, Chair of FACET
1.10pm - Welcome to Country
1.15pm - Tourism WA's focus now and in the future - Kym Francesconi, Senior Manager WA Partnerships and Industry, Tourism Western Australia
1.25pm - Overview of Who's Who in tourism - Kym Francesconi, Tourism WA
1.30pm - Tourism WA's Destination Development Role - Renata Lowe, A/Executive Director, Destination Development, Tourism WA
1.40pm - Tourism Attractions Case Management - Adam West, Director, Tourism Attractions Case Management, Tourism WA
1.50pm - Aboriginal Tourism Development - Robert Taylor, CEO, WAITOC
2.00pm - Destination Boost Program - Evan Hall - CEO Tourism Council WA
2.15pm - Small Business Friendly Program - speaker TBC
2.30pm - Town Team Movement - speaker TBC
2.45pm - Destination Development Case Study - Developing tourism in the regions: astrotourism, wildflowers and agri-tourism - Nils Hay, CEO, Shire of Mingenew
3.00pm - Q and A with the above speakers - led by Ryan Mossny, FACET Chair
3.15pm - Afternoon tea and networking