About this Event
Description
We have heard from the sector that many rural and remote professionals would benefit from the opportunity of building one on one relationships with others who share similar experiences, challenges and opportunities and get what it's like to be highly visible in a small community.
Would you like greater access to support, debriefing and supportive listening?
Would you find it helpful to build authentic connections with like-minded others in the sector outside of your community?
Would you find it supportive to have a flexible group and process that enabled this for you?
Yes? Connecting Across the Land is for you!
Small communities can be a wonderful source of support but wearing a professional hat brings a set of unique challenges. Connecting Across the Land is a confidential group from which organic relationships will be developed and that works in partnerships and together to support the development and sustainability of the sexual violence, women's health and wellbeing and domestic violence sector in remote regions.
Connecting Across the Land is a flexible program tailored with the participants. The content will be iteratively designed following one on one conversations between each of the participants and the facilitator, Eileen Heywood.
Through participation in this peer learning circle you will:
Build your confidence, skills and practical experience in peer mentoring
Establish ongoing relationships that extend beyond the life of the program and increase professional connectedness and sustainability
Enhance your skills in using a range of platforms and tools to enable ongoing professional connections
What's involved?
Peer conversations and groups:
9.30 am - 12.00pm 19 Aug, 2 Sept, 30 Sept, 28 Oct, 25 Nov, 9 Dec.
We would love to have you join us – you don't have to fly solo!
You can download a flyer about the program here.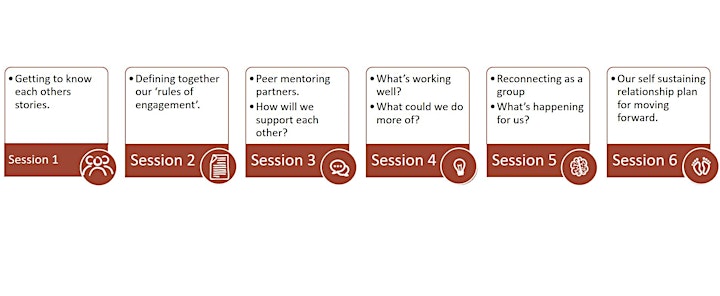 Register to participate now.
Curious?
Christine from WorkUP Queensland and Eileen Heywood will be facilitating an information session on 30th July. We will let you know the why, how and what of this program and answer any questions you have. We would love to have you join us so please register at https://workupqld.org.au/whats-on/ to get all the information you need.
If you have any questions please contact Christine at WorkUP Queensland on 0400 999 184 or at Christine@healingfoundation.org.au.
Who should attend
Connecting Across the Land is aimed at people working in rural and remote services in the sexual violence, women's health and wellbeing and domestic and family violence sector.
We can accept a maximum of 16 people into this program.
About the facilitator
Eileen Heywood has been facilitating mentoring programs for professional associations and clients in the public, private, tertiary and not-for-profit sectors for over 20 years.   Eileen's work is informed by strengths-based approaches including Appreciative Inquiry and a Solutions focus. Since 2005, this approach has seen Eileen consulting in a wide range on contexts including change management and leadership, culture transformation, strategic planning, program evaluation and emotional intelligence.
WorkUP Queensland is delivered by The Healing Foundation and ANROWS to build and grow capability and capacity of the sexual violence, women's health and domestic and family violence sector over the next five years.
You can visit our website at WorkUP Queensland to find out more about our work and the development of the regional workforce plans.
Date and Time
Location
Refund Policy