A powerful night of healing and connection: connecting with spirits that have crossed over and connecting with your spirit within.
About this event
We draw on the magic of Halloween to honour our ancestors and loved ones that have passed over and to allow healing to occur for all involved.
Bring a picture of loved ones passed over and anything else you'd like to add to the crystal alter grid, created by Wendy and Clive.
The night begins with Psychic Medium, Jacqui Krystal, taking to the stage. Jacqui has an amazing ability to tune in and pass on messages from the other side. As well as an amazing voice as she sings to raise her vibration to connect with them.
Then Renee will bathe you in healing sound vibrations with the Native American Flute, Tibetan Singing Bowls and Gongs. The Paiste Moon Gong, the Paiste Sound Creation Earth Gong, the Atlantis Gong, the Tara Gong, the Chinese Wind Gong, and the biggest of them all.... the All Seeing Eye Chau Gong at 42".
Sound has been used in many cultures to assist souls in crossing over and gongs have long been used for this purpose also, and that will also be my intention playing them on this night. As well as allowing people to let go of grief and fear and inspiring movement forward in life.
Tea and nibblies will be provided throughout the night on a tea break and at the end of the night again.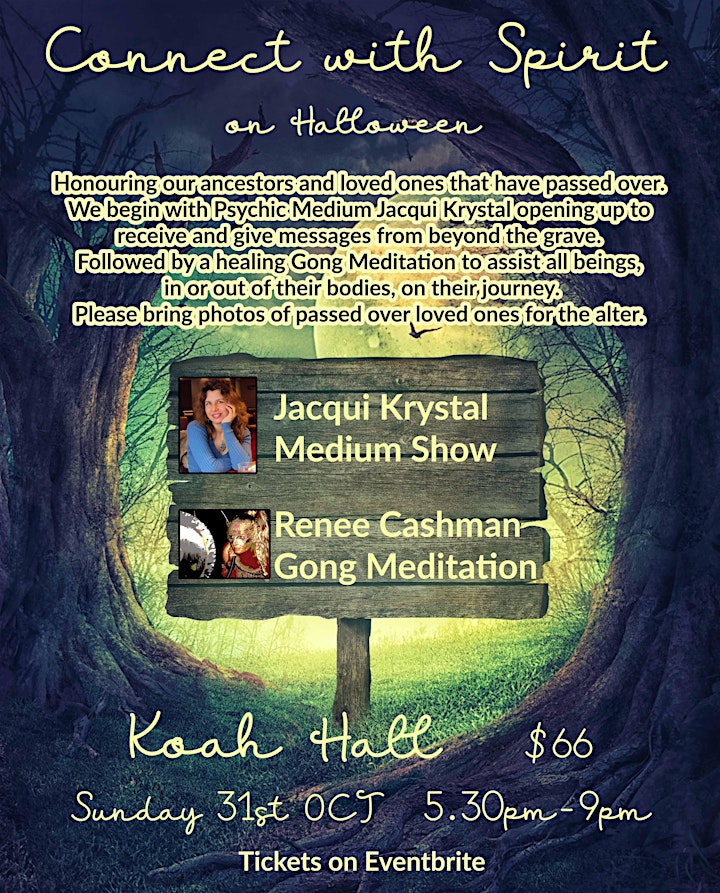 Organiser of Connect with Spirit on Halloween