Description
The big reveal is here! Paintbrushes will be provided from 1pm Saturday 30 April 2016 at Connect Kings Square, a FREE all-ages public event along Telethon Avenue to celebrate public art making and creating in the city with over $1.8m of percent for public art!
Located in Perth City Link, Kings Square precinct will reconnect Lake and King Streets next year, for the first time in 100 years.


Join in the excitement with:

> 1pm to 5pm: Lantern-making and treasure trail with AWESOME Arts in Kids Creative Corner + That's Entertainment 30m mural painting with Mel McVee
> 2.40pm + 3pm: Guided Artist Walks with Warren Langley, April Pine, Rod Garlett, Fred Chaney and Ritchie Kuhaupt

> 3pm and 4.30pm: KS Project dance performances
> 5pm to 6.20pm: Koorden Storytelling, Welcome to Country + a special evening concert by Phillip Walley-Stack

REGISTER and check-in at the Meeting Point on the day to receive a limited edition mini DIY Convergence figure by artist April Pine (subject to availability). Submit your Treasure Maps to Awesome Arts at Creative Corner to go into the draw to win prizes from Jacksons Drawing Supplies.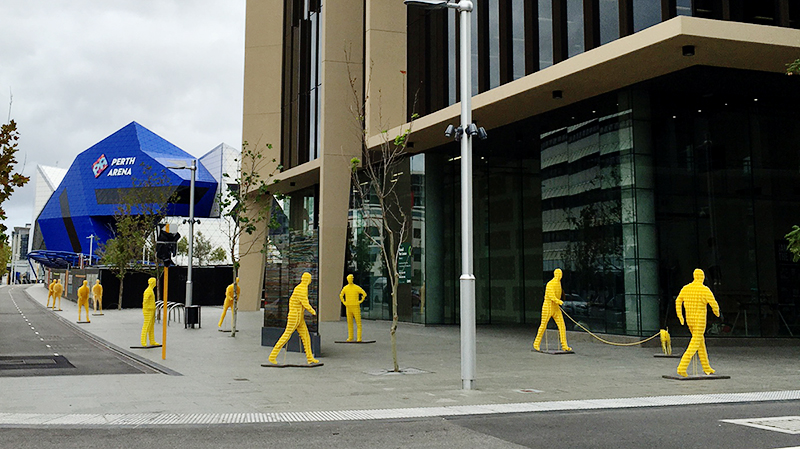 Click here for more information about this event. Follow us on Facebook for updates or contact us at info@artsource.net.au for more information.
Artsource is delighted to work with event sponsors: DEXUS Property Group, Leighton Properties and Shell, with support from MRA, City of Perth and Dept of Culture and the Arts to bring the Kings Square precinct to life.
Top image (left to right): Rod Garlett, Ritchie Kuhaupt + Fred Chaney, Koorden, image courtesy of Tash Gillespie; Pascal Dombis and Gil Percal, Irrational Geometrics, courtesy of Cooling Brothers Glass Company; Nicole Voevodin-Cash, Ripplescape; Warren Langley, Connectus, image courtesy of Trent Baker. Bottom image: April Pine, Convergence.