Conference on Digital Public Health
The conference discusses digital public health research in Germany and Malta to determine the scope of interventions in this emerging field
About this event
Established at the end of 2019 and funded for four years, the Leibniz Science Campus Digital Public Health (LSC) combines conceptual long-term research projects with a flexible suite of activities built on the developed frameworks for digital public health. The LSC represents a broad interdisciplinary body of renowned experts in public health, epidemiology, computer science, humanities, law, ethics, and social sciences. This enables us to move beyond strongly segmented research activities on digital public health, thus becoming a leading consortium in this dynamic field. Ultimately, this will result in sustainable research, training and transfer structures that will make digitalisation work for public health.
The Early Career Researcher Academy (ECRA) is the segment of young researchers, either pursuing their PhD in a topic related to digital public health or working at the LSC as one of four postdoc researchers. The LSC supports the ECRA financially to independently organise retreats and workshops, invite other researchers to research stays and talks in Bremen, and co-finance conference participation.
Also founded in 2019 was the NGO Digital Health Malta, which is established nowadays at the forefront of the Digital Health Sector within the Maltese islands. Their vision is to transform the Maltese healthcare sector through digital health. Digital Health Malta aims at achieving this goal by informing the general public, helping with innovation, and facilitating the transition from an analogue to a digital healthcare system.
Together, the ECRA and Digital Health Malta organised a conference to present their research in the rising field of digital public health and discuss the scope of interventions and strategies belonging to this area.
For more information regarding our aims and projects, please visit our website: https://www.lsc-digital-public-health.de/en/ & https://digitalhealthmalta.com/ and follow us on Twitter @ECRA_DiPH & @digitalhealthmt.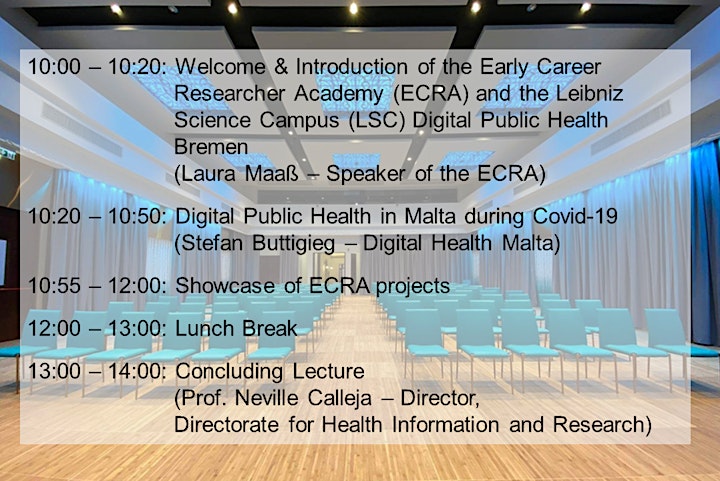 Organizer of Conference on Digital Public Health