Description
Building your Support Network

Do you have a supportive network, who all love your work?
or...
Are you being held back by people close to you telling you 'it's not going to work' or 'you're better off doing it another way' or 'you should be doing a paid job'?

Do you find it really hard to stay true to your own goals and values for your business, when other people have such different ideas about how you should be doing things?
This workshop aims to provide participants with a supported experience of decision-making, individualised to your own needs and/or business, which is strengths-based and solution-focused.
Participants will leave with skills, knowledge and strategies to continue confidently making decisions which are aligned with their business and personal values.
Come along and learn how to build your support network, and help filter the good advice out from the noisy crowd!
More about Jay...

Hi, my name is Jay.
I have over ten years' experience in the counselling field and over 30 years' experience in the human services sector. Most of my clients find me by word of mouth and come to see me facing a range of issues. I aim to help clients to access their own truths and inner wisdom in a supportive, gentle and encouraging way. The answers are there, in the stories, in the messages and signs. My job is to help them access their truth in a way which supports long term well-being.
---
More about the Conduit Program...

The Conduit Membership program has been in development since Central Business Associates opened its doors in January 2015, via ongoing consultation with the local business community.
It has been created to offer simple, cost-effective support for sole traders and small businesses.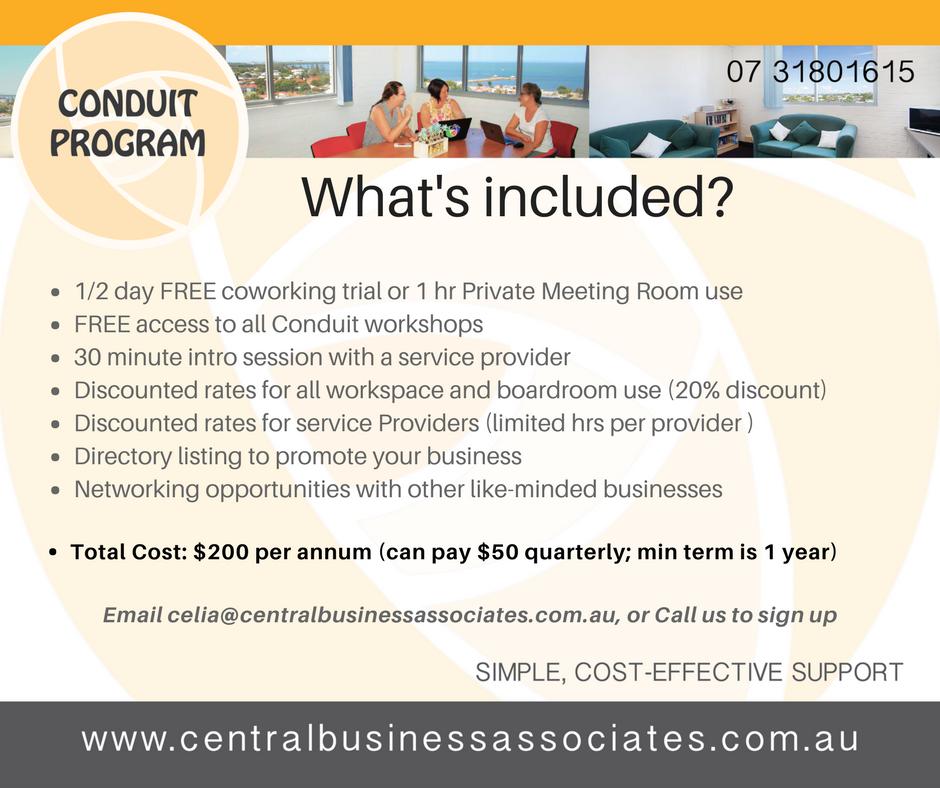 As a Conduit Member, you can access these workshops FREE.

If you are an Associate Member, you can access the workshops for 1/2 price.
(you may upgrade from Associate to Conduit Membership for only an extra $50 for the year)

If you are not a member, you can purchase your ticket at full price, and if you sign up for Conduit Membership on the day of the workshop, you will receive your ticket price discounted from your annual membership price!
Book tickets now, as seats are strictly limited, and are not exclusively available for Members. Only one free ticket per Conduit Member.
We look forward to seeing you - bring your lunch along and learn while you have a bite to eat.
Self-serve tea, coffee and water will be available.