Conduit: FREE Coworking day, with Marketing Round Table (Member only event)
Description
We mentioned exciting news about coworking... it's finally here!

We want our members to be collaborating and connecting, and a simple way to facilitate this.

After many hours of determination and number-crunching, we are delighted to offer our Conduit Members a VERY special rate for coworking.
You can now cowork for:
$15 per day
$50 per week, or
$200 per month* (includes keys for 24/7 access)
*monthly offer requires minimum commitment of 3 months, plus photo ID

This includes all our amenities - tea, coffee, aircon, electricity, wifi etc. We can't guarantee a fixed desk, but we will accommodate you when possible, to have your favourite view!


We LOVE our locals, and want to make collaboration REAL and VIABLE in our community.
To give you a taste of what coworking could do for your networking and your productivity, we are going to run FREE coworking days, probably around 6-8 a year, with a value of $90-$120!

This month's event will be our first for 2018, so please come along, bring your laptop, a project to work on, and we will hopefully send you home feeling productive and problem-free (hey, we like to be ambitious!)
PLUS.....

Over lunchtime.... from around 11.30, we will spend an hour chatting through your marketing questions.

Marketing : Round Table discussion

One of our highly requested topics to cover is Marketing.


At 11:30am on 28th February, our Coworking Room will turn into a round table discussion on Marketing.

Facilitated by Michelle Lanceley & Celia Newlands, this informal talk will touch areas from Social Media, SEO, Website, eDM, Mailchimp, CRM, and other marketing jargon.

We encourage Conduit Members to participate, whether you're a learner or someone who can contribute some wisdom.

Marketing doesn't need to be a huge or scary task. Let's talk and simplify!

By the end of the day, you should feel clearer about where you do, and don't, need to be spending your time.

Email your biggest Marketing challenge to collaboration@centralbusinessassociates.com.au so we can prepare some assistance in advance, or simply book in and come along on the day and tell us what the issue is - we will give you some guidance and help you through the haze!
---
More about the Conduit Program...

The Conduit Membership program has been in development since Central Business opened its doors in January 2015.
It has been created to offer simple, cost-effective support for sole traders and small businesses.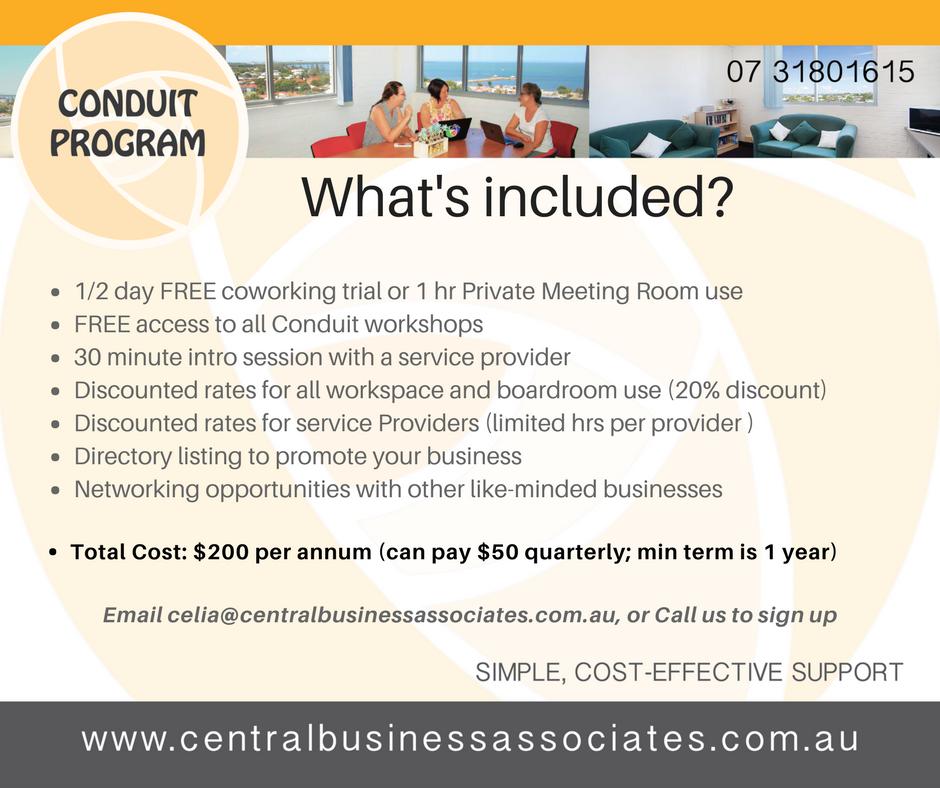 As a Conduit Member, you can access these workshops FREE.
Book tickets now, as seats are strictly limited. Only one free ticket per Conduit Member. We look forward to seeing you.
Self-serve tea, coffee and water will be available.