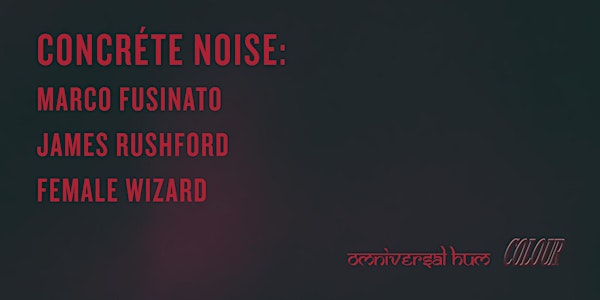 Location
Colour Club
229 Queensbury Street
Carlton, VIC 3053
Australia
Three distinctly forward-thinking sound makers from disparate corners of our music community will converge on Melbourne's freshest new venue
About this event
Marco Fusinato
As a musician Fusinato explores the idea of noise as music, using the electric guitar and mass amplification to improvise intricate, wide-ranging and physically affecting frequencies. His ongoing series of durational noise-guitar performances 'Spectral Arrows' – described as a monumental aural sculpture – was first performed at The Glasgow International Arts Festival (2012) and has since been performed in museums and theatres worldwide. He also performs regularly in the experimental music world, primarily as a solo artist.
James Rushford
James Rushford is an Australian composer-performer. His work is drawn from a familiarity with specific concrète, improvised, avant-garde and collagist languages. Currently, his work deals with the aesthetic concept of musical shadow. As a composer, James has been commissioned by the BBC Scottish Symphony Orchestra (Glasgow), Melbourne Symphony Orchestra, Ensemble Neon (Oslo), Speak Percussion (Melbourne), Ensemble Vortex (Geneva), Ensemble Offspring (Sydney), Decibel (Perth), Melbourne International Arts Festival (2006/2008), Norway Ultima Festival (2011), Unsound Festival (New York 2014) and Liquid Architecture Festival (2010).
Female Wizard
With a daring approach to DJing, Female Wizard mixes emotions as much as genres. The flow of her music brings to the dance floor more than an experience, it invites participation in a journey, or a moment. Female Wizard is a co-host of the dynamic and experiential music entity Powertrip .