In this one-day workshop we will begin by learning how to accurately fold concertina books of various types, using existing or new papers.
About this event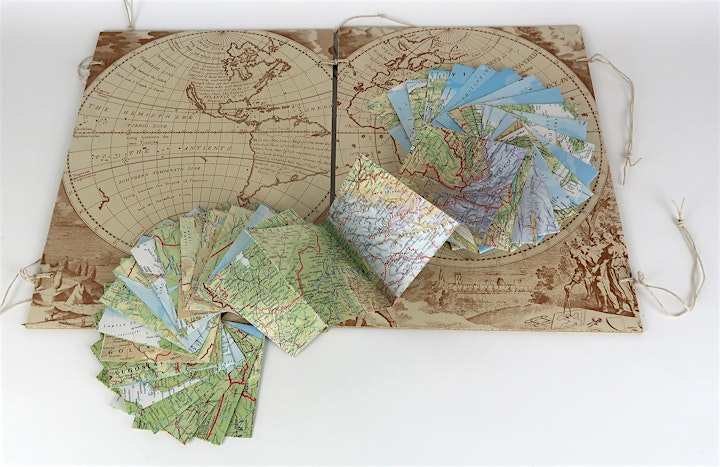 CONCERTINAS
12 Feb 2022
Avril Makula is a book artist, book designer and bookbinder. In her current practice, she prints and binds books using both new and old technologies, takes discarded books and restructures them into new forms, and makes prints using letter shapes. While much of her work explores the book as art using typography, geometry and colour as content, she finds herself increasingly influenced by the natural world around her. Avril co-curated 'Place: an exhibition of artists books', published a book called 'Type Town: a neighbourhood of glyphs, graffiti, ligatures and legs', and her work is held in public and private collections.
As the name suggests, concertina books (also known as accordions) are those that open and close in multiple folds like the musical instrument. The permutations are many and varied: a long piece of paper folded evenly and stacked; a concertina with pockets or incorporating sewn sections; a back-to-back concertina; a double concertina; a lepporello. Their versatility affords almost unlimited scope. Bookmaking in general forms an important conjunct to the practice of many artists, and concertina structures in particular are favoured for their sculptural potential and ability to be displayed easily.
In this one-day workshop we will begin by learning how to accurately fold a concertina book, then make some of the many variations. You can make your books from blank paper as maquettes to keep as reference, but this is a great opportunity to utilise leftover proofs, prints and drawings to give them new life.
TOOLS AND MATERIALS
• bonefolder
• awl
• cutting mat
• scalpel or other sharp blade
• metal ruler
• pencil
• bookbinding needle and thread
• adhesive (glue stick, double sided tape)
• scissors
• any paper that can be folded, various weights, and can include printmaking paper, plain paper such as cartridge paper, coloured paper, decorative, handmade etc
Participants to bring:
• prints, drawings, proofs, eco-dyed paper
• any drawing materials, collage materials, or whatever you like to use to make marks on paper (optional)
PLEASE WEAR CLOSED IN SHOES.
BRING YOUR OWN LUNCH/food.
Covid safe Rules apply.
If you are unwell you must not attend.
Please read website for cancellation policy
Organiser of Concertina Books