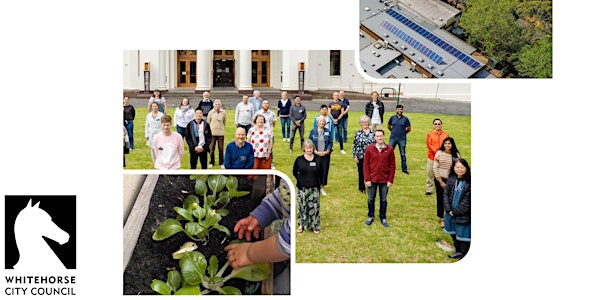 Community conversation: sustainability and climate change in Whitehorse
Whitehorse City Council invites you to join a community conversation on sustainability and climate change.
About this event
Whitehorse City Council is keen to hear your thoughts on what we could do to:
Make Whitehorse more sustainable
Protect our community from the impacts of climate change
Council invites you to a community conversation to share what we could do to make Whitehorse more sustainable and protect our community from the impacts of climate change.
You don't have to be an expert - come along, everyone is welcome!
During the conversation, you can tell us what matters most to you when it comes to things like:
Sustainable transport (walking, cycling, public transport and electric vehicles)
Our natural environment (trees, parks and gardens and local creeks)
Solar and renewable energy
Saving water and energy
Recycling and reduce waste
Growing local food
Climate change and your health, and more!
Your input will help Whitehorse City Council develop its next Sustainability Strategy 2030 – 'Taking Climate Action.'
We look forward to meeting you!
This community conversation will be hosted by HIP V. HYPE Sustainability on behalf of Whitehorse City Council.