About this Event
More than ever, the environment in which we operate as communicators is fast-paced and ever-changing. COVID-19 has shone a spotlight on the importance of our profession to provide sound strategic advice to senior leaders and help guide our companies through crises. Have you ever wondered how experts in our field handle these challenges?
We've hand-picked three leading Australian communicators who are ready to share their insights into some of the hottest topics affecting our industry. In this virtual round-table event, they will share examples of best practice in business communications and answer your questions.
They're also looking forward to hearing your stories of success.
Chatham house rules apply.
This event is for IABC members only – first priority to IABC NSW members.
Strictly limited to 30 tickets
Our three speakers and their topics:
Adrian Christie, Communications director, ALDI Stores Australia.
'Toilet paper and the crap that came with it. Why Internal Communications is more important than ever to inform workforce'. Sharing insights from ALDI as to how they worked to keep their employees safe and informed.
Rhys Kelly, Head of communications, The Smith Family
'Pivoting our messaging and our programs against the backdrop of a global pandemic. How leading Australian children's education charity The Smith Family moved fast to stay relevant and top of mind for donors during COVID-19'
Amanda Wallace, Head of Corporate Communications at IAG
'The social company – aligning purpose and business strategy with social issues. Case study: The Uluru statement from The Heart'.
Member month
October is member month so if you've always been thinking about when the best time join – now's the time to join your community.
With the discounts available you could secure membership for under $200 (approx. $190 rather than the usual $319) – use our business case letter and learn more about the benefits here: https://www.iabcnsw.com/membership
Event Details:
Date: Thursday, October 29 5pm-6.30pm
• Welcome (5 minutes)
• Each speaker will give a 10-minute case study talk on a topic of their choosing related to a recent issue or campaign that has specific application for a comms audience (30 minutes)
• Break into 3 x 15-minute virtual chat rooms, a facilitated discussion by each speaker where guests are able to share their own examples/best practice and have a Q&A. (45 minutes)
• Rotate chat rooms so that attendees will spend 15 minutes with each speaker
• Reconvene and close (10 minutes)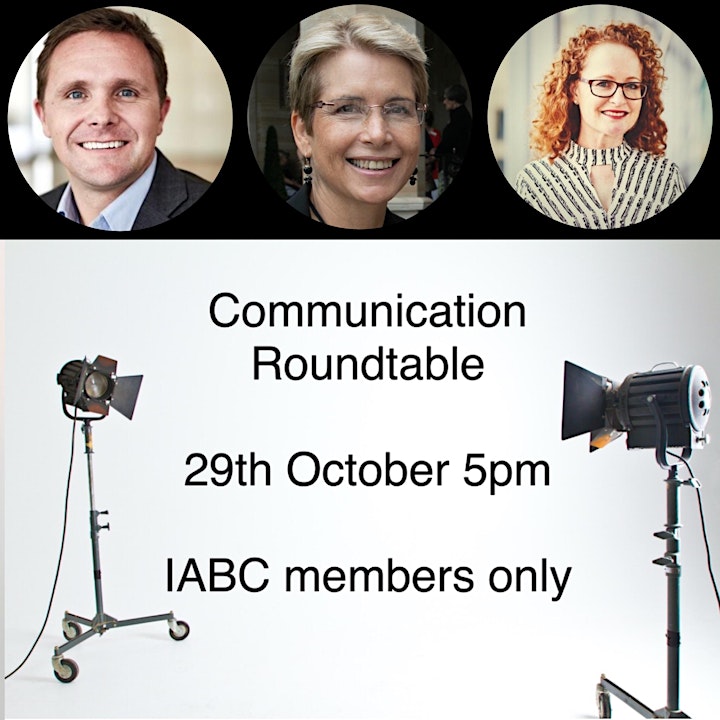 Date and Time
Location
Refund Policy