Description
This is for everybody – especially for those who say "I can't draw!".
Come and join like-minded people in building confidence in communicating visually.
This will be a practical pen-in-hand session, supplemented with ongoing mentorship with our designers, Zoe and Harold, to really help you be a visual communicator.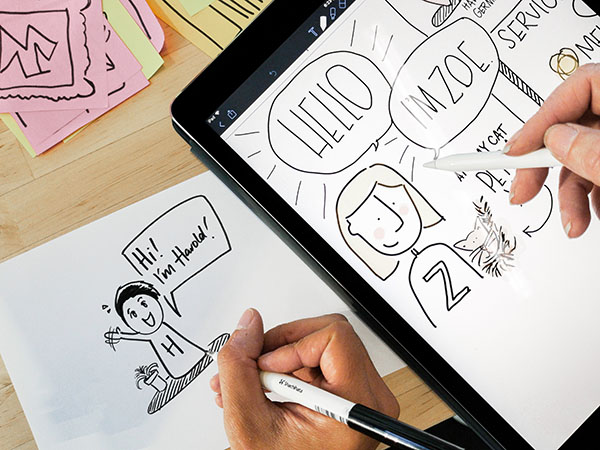 Too often in business, we find ourselves typing out reports, slide decks, and business proposals, because we're simply used to using words to communicate what we're thinking.
A sketch can take a few seconds, and can be just as, if not more engaging, and easier for our brains to digest. Working with hundreds of businesses and industries throughout the last 10 years, we at Meld Studios get a special feeling every time a client has told us how much they value our visuals for making complex business processes, concepts and ideas, so much more tangible and simple.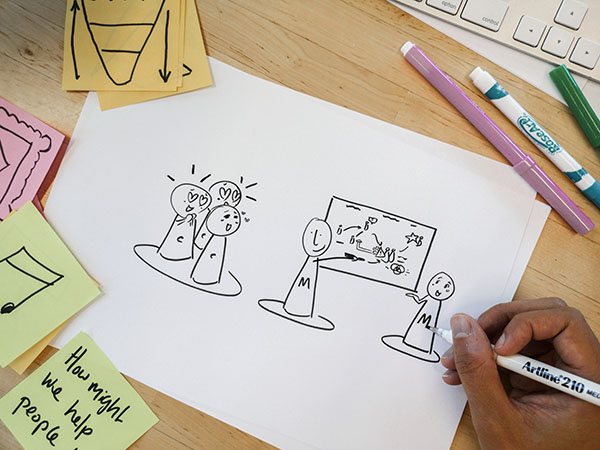 WORKSHOP
In this workshop you'll develop the visual skills that help to:
Express your thinking

Bring life to your ideas, concepts, strategies, processes – so you get more buy-in

Use visuals and sketching to uncover relationships, problems, and opportunities

Genuinely capture your stakeholders' attention and improve their understanding

Represent complex ideas in a quick, tangible, and cost-effective way.
Over the four hours, we will be:
Building your own library of visuals to draw upon

Learning some techniques to visually express business flows, processes and relationships

Illustrating the interactions your customers have with your business and organisations

Going over step-by-step instructions on how to create a visual story that you can run your stakeholders through.
AFTER THE WORKSHOP
You'll also receive mentorship after the session, including:
One hour of one-on-one mentorship with Zoe or Harold to help you integrate your learning into your work context.
This can be in-person (in Sydney) or via video conference

We can work together to find a time that works best for both you and us

We can discuss how best to use our time together

You may purchase more time if you wish.
You'll also be given access to an attendees-only online forum, where you'll:
Be part of a community of your fellow sketchers, where you can share, practise, and learn from each other

Be able to post your sketches

Be able to ask for advice from us and your peers

Receive regular sketch challenges.
WHAT TO BRING
Consider some of the scenarios you think visual skills might help you in your job or personal life

A fun, open-minded attitude! Important is the ability to laugh at yourself, encourage others, and learn something new.
Feel free to contact either Zoe (zoe@meldstudios.com.au) or Harold (harold@meldstudios.com.au) if you have any questions and would like to know more.
Meld Studios is also offering workshops in Service Design, Leading human-centred organisations, and Design Research. Check them out here.