Description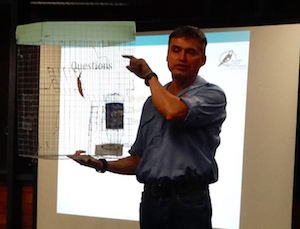 Come and learn how can you help control Common Myna Bird impacts. This workshop will explain how to identify this bird, how to report your sightings and how you can start trapping in your own backyard.

After attending this event, if you're interested in trapping, you can borrow a cage and learn how to set it up. Participants will also need to sign the Animal Welfare Protocol before starting any trapping. You don't have to trap, you may just like to come along and understand more about the impact on native birds and other issues related to this invasive species.

The 'Common Myna Humane Reduction Program' is a community program of the Bulimba Creek Catchment Coordinating Committee which creates awareness of Common Myna (Acridotheres tristis) impacts. Volunteers have built cages and participants can trap Common Myna birds in their backyards.

Refreshments Provided.

FREE. RSVP required.
If you have any queries phone 3398 8003 or email b4c@bulimbacreek.org.au.

Proudly supported by Brisbane City Council Lord Mayor's Environment Grant.
Hosted by Bulimba Creek Catchment Coordinating Committee.

Why are Common Myna birds are problem?
Common Mynas were listed among 100 of the world's worst invasive species by the World Conservation Union (IUCN) in 2000. In Australia, Common Myna birds are considered to threaten native biodiversity due to their territorial behaviours and nest cavity competition.