Command on Demand is a one-day workshop that will equip you with a toolkit for unlocking your full potential as an effective communicator.
About this event
Command on Demand
Being the centre of attention can be daunting. But there are times for all of us when we have to get up and share our thoughts and feelings publicly. Whether it's a professional presentation, a wedding toast, or a difficult conversation we have been putting off for too long, everyone needs to call upon their ability to command authority and gravitas every now and then. Command on Demand is a one-day workshop that will equip you with a toolkit for unlocking your full potential as an effective communicator in any situation. Presenter Nick Martin will lead you through a series of theatre inspired exercises and games that will have you commanding the space with ease and confidence. And have you moving and speaking with authority, integrity, and conviction.
Thoughts from Nick's former workshop participants…
'I have never felt so relaxed when presenting or so willing to have a go at new techniques…The workshop was a powerful experience. I wasn't given a list of hacks. I was taught basic techniques that can be honed with practice and to tune into what I already know to become the unique and authentic speaker we all have inside of us.'
'A new perspective'
'It's one of those 'never be the same again' experiences that I just know I'll turn to in my mind's eye often when short of a little courage or inspiration.'
About Nick
Over a twenty year career in the Performing Arts, Nick has worked as an Actor, Musician, Dramaturg, Director, and Lecturer. In the last ten years his practice has focused primarily on the fundamentals of interpersonal communication and presentation skills for non-actors. His approach brings together techniques and principles from the Laban/Malmgren System of Character Analysis, Laban Movement Analysis, as well as the work of Jacques LeCoq and Tadashi Suzuki. Through creative and collaborative games and exercises his workshop participants will gain greater awareness of how they move and speak and the effect that a deliberate approach to physical and vocal gesture can have on and off the stage. Nick's approach will help you to identify some common problems in communication, examine the fundamental principles of effective communication and develop a deeper understanding of interpersonal skills through the use of physical presence, gesture and voice.
Event Information
To ensure that all participants receive maximum benefit and time for individual feedback, numbers have been capped at 15 people for the session.
Latrobe City Council is co-funding this workshop. There will be a charge of $75 per person (plus the Eventbrite booking fee) which participants will need to pay upon booking.
Should COVID restrictions prevent the workshop from being able to be held on this date, then we will reschedule it for another date. If participants be unable to attend on the new date, then a refund will be provided.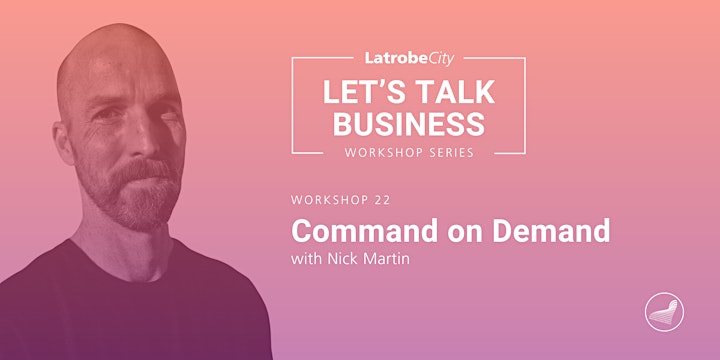 Organiser of Command on Demand, unlock your full potential as an effective communicator