Autonomous zine launch about the mental health experiences of Queer, Transgender and Intersex Bla(c)k People of Colour, presented by DEiFY
About this event
The Coming Home Zine Pre-Launch is presented by DEiFY.
The West tells us that mental health is like all other ailments – that it can be reduced to diagnosis and treatment. Mental health involves self-care, self-respect and self-sustenance.
But the pain experienced by Queer, Transgender and Intersex Bla(c)k and People of Colour is essentially shared - communal.
Our pain is centuries old. It is passed down and carried on our backs, with every generation adding new struggle and new strength.
In ways, our pain is boundless. It grows every day, from the small microaggressions to the desecration of our histories, land, cultures and spirituality.
But every day, we strap the pain to our backs and continue on. We are expected to bear our reality while contesting it. We are expected to be strong and resilient with little rest or mourning. We are expected to fight and heal synchronously.
Just as our pain is communal, so must be our healing.
By telling our stories we displace the colonial narrative of mental health. We expand our collective understanding of peace, and cultivate a space to finally heal. Together, we create a place of safety and rest that we deserve, but were never meant to access.
Welcome home.
~~~~~~
The Coming Home Zine provides a supportive platform to share and explore the unique mental health experiences of LGB, trans, intersex or queer people who also identify as Bla(c)k, First Nations, or a Person of Colour, on the stolen lands of Ngunnawal and Ngambri Country (Canberra).
The pre-launch creates a space where QTIBPOC people can share their stories in a safe setting through creative art and performance in order to destigmatise discussions of mental health in the community and promote better mental health for us all.
Running order:
6pm Sign in, snacks and mingling in the courtyard
6.30pm Zine launch + performances
7.30pm More socialising
8pm Event finishes
You can read more about DEiFY, and join the Facebook community here: https://www.facebook.com/groups/qtibpoccanberra
Our official website, Facebook and Instagram accounts will be launched later this year.
You can contact us at deifycbr [at] gmail.com
What: Coming Home Zine Launch - presented by DEiFY
When: Friday 23 October 2020, 6pm to 8pm
Where: F block gallery, Gorman Arts centre, 55 Ainslie Avenue, Braddon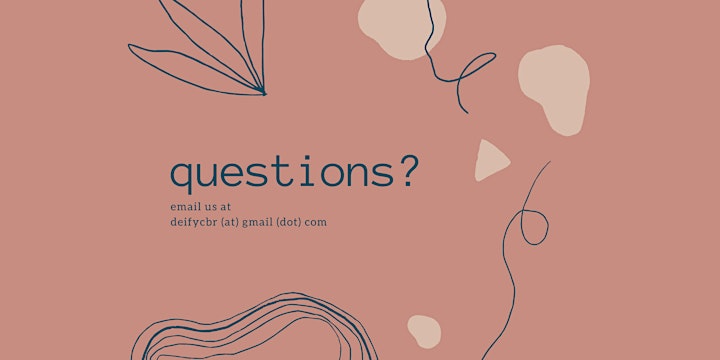 This event is supported by Mental Health Month ACT. www.mentalhealthmonthact.org/