Description
Comics and Memoirs
In this workshop Sandra Broman (Esther! A True Story) will explain why comics can be an excellent medium for memoirs.
Together, we will look at the ways for drawing out the essence – the crucial plot – of larger narratives, exploring different styles, page layouts common to the graphic novels, as well as interview hints for drawing a story from your subject. The workshop's participants will then create a comic short based on life experiences of their interviewee.
All participants are asked to bring a short story to the session.
Sandra Broman is the author of Esther! A True Story graphic novel (Silver Ledger Award 2019).
Quiet Study Area Level 3
Artwork by Sandra Broman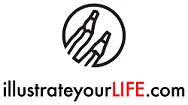 Photo and video consent information
Inner West Council is strongly committed to ensuring people with a disability have equal opportunity
to take part in local activities and have fair access to Council and community programs, services and
resources. All Inner West library branches have step free entry, though please note there is no accessible
toilet at Stanmore Library.