Comic Con-versation 2019: Comic Team, Assemble! Collaboration in Comics Pan...
Description
Comic Team, Assemble! Collaboration in Comics
Have you ever wondered what a collaboration between an artist and writer looks like? What happens behind the scenes? What is the process of editing a comic anthology, and what are the challenges of creating a large project, involving artists from all over the world?
This panel session aims to answer these questions.
Panel:
Jakub Mazerant, the founder of the Pieces Project.
Karen Beilharz, writer, editor and comics creator (Kinds of Blue, Monsters).
Louie Joyce - illustrator and comics creator (Haphaven).
Chris Neill - the editor of the Meet Me in the Pit comics anthology.
Artwork by panelist Louie Joyce

Local History Room - Level 2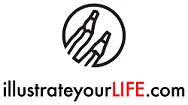 Photo and video consent information
Inner West Council is strongly committed to ensuring people with a disability have equal opportunity
to take part in local activities and have fair access to Council and community programs, services and
resources. All Inner West library branches have step free entry, though please note there is no accessible
toilet at Stanmore Library.