Darren Sanders Comedy Fundraiser for Dixon Park SLSC (Tickets $33* Online or $40 at the door unless SOLD OUT) R-RATED Over 18's
About this event
Along with the entertainment industry, many other industries have also been hit hard over the past 12 months.
Here's a chance to support the arts along with raising some funds for your local club whilst enjoying a good laugh.
Drinks will be available on the night at the bar and you can also pre purchase a 5.30pm or 8.30pm 2 Course Dinner Option for $45* from Knockin Gnocchi. (link to purchase dinner option at www.darrensanders.com)
--------------------------------------------------------------
Darren Sanders has been performing stand up comedy for 30 years and can been seen anywhere from hosting his own late night chat show to appearing in movies and TV shows.
In recent years Darren has been working on cruise ships in The USA, Asia, New Zealand and South Pacific entertaining nationalities from all over the world. He even opened for the legendary group The Temptations on their Australian tour.
He hosted the late night chat show, 'The Darren Sanders Show' which aired nationally in Australia on the Nine Network's GO Channel and Foxtel. He has performed on LIVE TV on Rove Live, In Melbourne Tonight, The Russell Gilbert Show and Stand Up Australia.
As an actor Darren has appeared in Underbelly 3 and the feature film 'Any Questions for Ben' where he had the honour of having the last line in the film. He appeared in the TV drama 'A Place To Call Home' and is currently working on bringing 'The Comedy Outlaws' to the big screen.
"Excellent stand up comedian in the classic sense. I enjoyed Darren's shows immensely. He has impeccable timing and nothing rattles him." - Viking Cruises
"Darren went down very well. He was interactive with the crowd but not insulting them. Received many positive comments from the guests after the shows." - Cunard Cruise Line
"Sanders has a relaxed and confident style that allows the audience to forget that his jokes are scripted as they flow naturally with fast paced delivery and complete relevance." Ceri Horner - Glam Adelaide
"We were pleased you were able to join us and want to thank you for your entertaining comedy and live auctioneering. You are a real talent! All the feedback from our guests was positive and they all enjoyed your comedy." Gary Ella (President Lloyd McDermott Rugby Development Team)
"Presentations are usually boring and drawn out, with the MC struggling to keep the audience interested. Thanks to your great comedy this was not the case at the recent Football NSW Futsal Awards. You made it enjoyable with humour that was appropriate for the diverse ages that were present on the night, but still maintained the significance of the night. Great job."- Linda Ward (Director –FNSW)
During these challenging times where we seemed to be flooded by negativity and tension, sometimes you forget the importance of laughter, and the deep emotional impact it can have on your physical and mental state of being. With Government restrictions limiting our partner conference to a virtual event, Darren Sanders was able to bring a welcomed change of pace to our presentations and provided our partners with some much needed chuckling over the course of the three days. We look forward to having you join us again soon Darren - Pablo Munoz, 8x8 Marketing Manager
*plus booking fee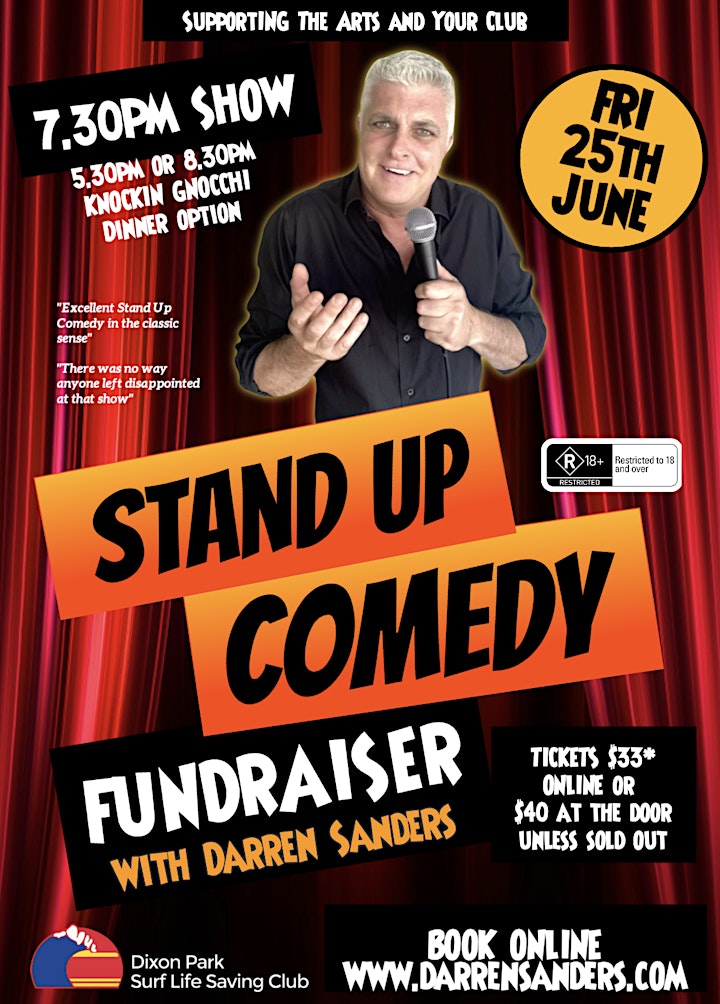 Organiser of Comedy Fundraiser at Dixon Park SLSC with Darren Sanders