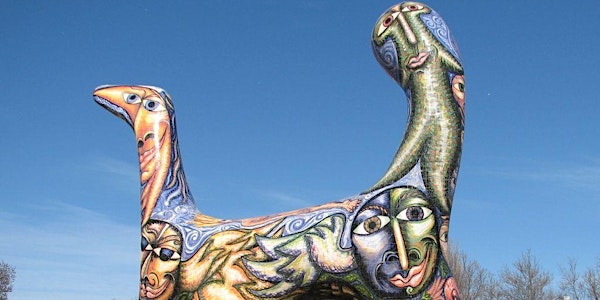 COLOUR AND SPATIAL DRAWING Growing Mosaic Literacy in Melbourne #2
Location
The Meeting Room, Meat Market
3 Blackwood Street
North Melbourne, VIC 3051
Australia
Growing Mosaic Literacy is an exciting creative development initiative by the Victorian Branch of MAANZ (Mosaic Association of Aust & NZ).
About this event
COLOUR AND SPATIAL DRAWING, the second of three 'Growing Mosaic Literacy' events will - over the course of a day - provide fascinating insights for artists working in projects big or small, 3D or 2D, in mosaic, sculpture or painting. A stellar line-up of 3 leading contemporary Australian women artists Deborah Halpern, Melinda Harper and Kerrie Poliness will each share a slide lecture followed by Q & A - and then after a yummy catered lunch - an afternoon abstract drawing workshop with Kerrie Poliness (to either participate in or watch on as a curious observer).
Deborah Halpern is one of Australia's most celebrated sculptors, known for her wildly colourful mosaic work.
Melinda Harper works in a variety of media including drawing, collage, photography, screen-printing and embroideries.
Kerrie Poliness is known for her rule-based painting and drawings that are installed by groups of participants.
After a delicious lunch, Kerrie Poliness will hold an abstract drawing workshop. There will be plenty of time for questions and discussion.
The day will also be live streamed on Zoom from 10.30 am - 3.30 pm (it will not be recorded).
Growing Mosaic Literacy in Melbourne has been supported by The City of Melbourne, Arts Grants.