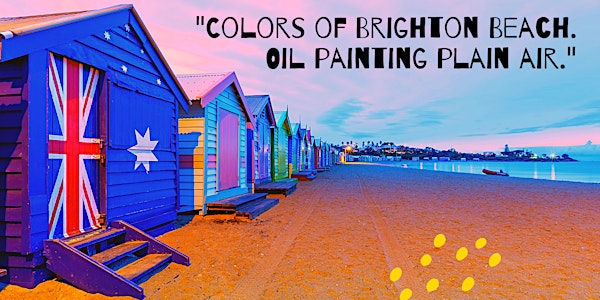 "Colors of Brighton Beach. Sunset at the beach." Oil painting plain air.
How lovely to meet sunset at the beach and capture the beauty. Join us and create in this picturesque location.
About this event

Get ready to paint outside. Taya shows students how to capture light, colour, and the spirit of Brighton Beach famous Bathing boxes with demos and one on one help on the beautiful beach of Port Phillip Bay.
You've probably seen photos of the Brighton Bathing Boxes, 82 distinctive multi-coloured beach huts lining the foreshore of one of Melbourne's most exclusive neighbourhoods. They're one of the most photographed spots in the city, but how do you get them painted?
While most people visit them as a colourful photo opp in Melbourne, the Brighton Bathing Boxes do have a lot of history behind them. In fact, they were built more than 100 years ago when Australians were a little more modest and were used by women for privacy when changing into their swimwear.
While Bayside council has periodically built and sold new boxes in recent years, it is rare for existing boxes to hit the market. They are tightly held, often passed down through generations. Each of the Brighton Bathing Boxes has its own unique characteristic.
The most popular, by far, has to be Box 2 which features the Australian Flag. Our favourite is the Katsushika Hokusai-inspired blue-and-white wave box or the VW van declaring that 'Life's a Beach' to all those that wander past.
You won't need to bring anything. All materials are included in the ticket fee.
Let's touch this history alive with our brushes. Join us and paint your masterpiece!

Organiser of "Colors of Brighton Beach. Sunset at the beach." Oil painting plain air.
Come to paint with us! Explore your talents and enjoy a morning focused on oil drawing master-class!!! We will guide you through the class step by step to help your create your one a kind masterpiece to take home with you that day! We provide you with all of the materials and instruction to create a one of a kind work of art to cherish for years to come. Each painter receives a stretched canvas, paints and brushes, an apron, and instruction from a professional artist to guide you to create your own original piece of art. We'll guide you, step-by-step, through the basics of OIL painting — in a fun and relaxing atmosphere. More than 15 years of drawing experience and 6 years of teaching experience shows - EVERYONE CAN CREATE!!!