Colonel Light Gardens 100 Year Anniversary Garden Party
CLG Anniversary: a live Jazz Band with tables, chairs & umbrellas on lawns; light refreshments; quizzes with prizes for adults & children.
About this event
This Garden Party is focusing on CLG and its residents who are celebrating the 100 year Anniversary of our Garden Suburb.
Attractions: A 4 piece live Jazz Band; light refreshments with tables, chairs and umbrellas. History based quizzes with 4 x $50 vouchers to local cafes. A children's quiz with prizes for all with extra raffle prizes too. Historical films from the 1950's and 1980's, talks on the history of the suburb, book stalls by local historians with a display of 1920's pictures of CLG.
Representatives of the Mitcham Council or Heritage SA will be on hand to answer questions on the Heritage Standards (Colonel Light Gardens State Heritage Area) and how they apply to renovations or new builds in our suburb. The RSL will provide light refreshment (e.g. sandwiches, afternoon tea) and the bar will be open for adults.
Seating, tables and umbrellas will be positioned on the lawn area and possibly the car park of the RSL to enable individuals and groups to enjoy the music, mix, and converse. All residents of the Mitcham City Council area are welcome.
Please book ('REGISTER') your free tickets, including for children.
The Colonel Light Gardens Residents' Association has received a generous grant from the City of Mitcham to hold the event which was matched by volunteer hours by the Colonel Light Gardens Residents' Association.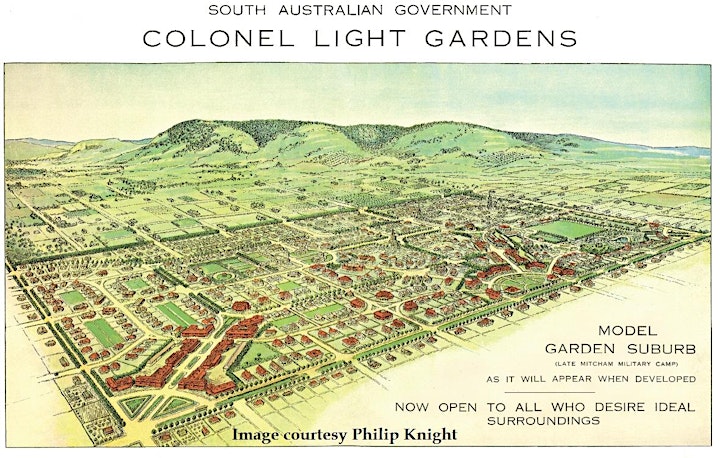 Organiser of Colonel Light Gardens 100 Year Anniversary Garden Party