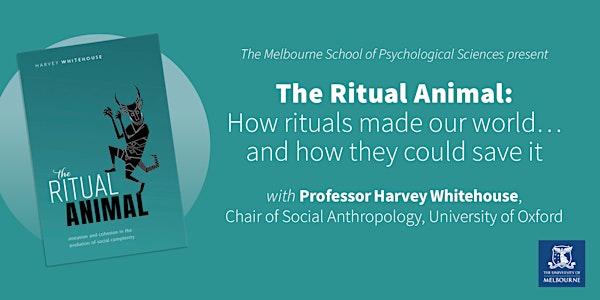 Colloquium with Professor Harvey Whitehouse, University of Oxford
Location
University of Melbourne
Lowe Theatre, Redmond Barry Building
Tin Alley
Parkville, VIC 3010
Australia
Sales Have Ended
Registrations are closed
Sales have ended. Please content the MSPS Engagement Team, engagement-psych@unimelb.edu.au, with any queries.
Professor Harvey Whitehouse presents his lecture, 'The Ritual Animal: How rituals made our world… and how they could save it.'
About this event
The Ritual Animal: How rituals made our world… and how they could save it
An MSPS Colloquium presented by Professor Harvey Whitehouse
Rituals are a way of defining the boundaries of social groups and binding their members together. In this lecture, Professor Harvey Whitehouse seeks to unravel the psychology behind these processes, to explain how ritual behaviour evolved and how different kinds of ritual performance have shaped global history over many millennia.
Efforts to test the 'ritual modes' theory have used a wide variety of methods, ranging from field research, large scale multi-country surveys and controlled experiments, to mathematical modelling and quantitative analysis of archaeological, ethnographic and historical datasets. The results of this research point to new ways of addressing cooperation problems in the twenty-first century: from preventing violent extremism and tackling crime to managing global pandemics and motivating action on the climate crisis.
About Harvey Whitehouse
Harvey Whitehouse is Professor of Social Anthropology and Director of the Centre for the Study of Social Cohesion at the University of Oxford. He is currently the recipient of an ERC Advanced Grant to investigate the role of rituals in binding groups together and motivating inter-group competition and conflict. Whitehouse is also a founding director of Seshat: Global History Databank which is being used to test various hypotheses concerning the role of rituals in the evolution of social complexity.
About the event
This Colloquium will be held as a hybrid event, with an in-person (University of Melbourne, Parkville campus) and online (Zoom) option. Please select your preferred attendance type during registration.
In-person attendees, please note:
As per the University's policy, you must be fully vaccinated to attend campus unless you have a valid medical exemption. Please carry proof of vaccination with you on campus.
Ensure you complete a symptom self-assessment prior to leaving home. Do not come to the event if you are unwell, even with very mild symptoms.
Do not come to the event if you are required to isolate or quarantine for any reason and/or you are awaiting the results of a COVID-19 test.
Please let the organiser know immediately if you become unwell during the event.
Follow directions for hygiene, including wearing a fitted face mask, during the event.