Description
Overview
Collecting honey from bees is most commonly done from European honey bee colonies. However, it IS possible to collect honey from the Australian native stingless bee. The stingless bee is tiny, so the amount of honey they collect is also small, but it does have its own distinctive flavour. Robert Luttrell (Bob the Beeman), works in harmony with the stingless bees, and has developed a system that respects the life of the bee colony and uses available modern technology. In the bee keepers' world, there are frequent discussions exploring well-established traditions, new ideas and opinions of how the collection of honey can best be done. Bob is continually asking questions and experimenting in his shed so he can create adaptions and additions to the bee box that will fit his philosophy of caring and respecting the bees.
Bees store their honey to feed the colony. So you may ask, how can we share the honey without depriving the bees? Also, the stingless bees keep a tidy and clean home, and one thing Bob has observed is that the little bees do not like broken or spilt honey pots. How can we extract the honey without making a mess of their home? Both these questions impact how the honey can be harvested.
Bob's answers revolve around his observations around bee behaviour, combined with his vast experience of different designs of bee boxes that provide optimal results for the bees. Bob has also been exploring and fine-tuning the use of the modern-day's 3D printer and food-quality plastics – not an easy task. His frames have now moved on into the injection molding production.
During 2017 Bob was in a position to share his journey of developing honey collecting frames and results. You may already have a bee hive of Bob's design, or you may have another design. As Bob thinks around challenges, he has devised a 'universal' (honey super) level that will fit on to a 20cm x 28cm bee box.
Is this Workshop for you?
Do you already have a native stingless bee colony in a box? Is your stingless bee colony active and strong? The colony should have been established for at least a year. How do I know if my colony is ready to have a 'honey super' to collect the honey? Bob recommends that you have at least two full levels, preferably three. There should be a healthy brood, and good stores of honey and pollen. That's the colony sorted!
Now, are you ready to take your expertise up another level so you can collect some of your stingless bee's honey? This workshop will provide the information and the extra level - 'honey super' that you will need to do this. Bob goes further, he has some appetising recipes to inspire you!
If you can answer 'yes' to those three questions above, then this workshop is for you!
If you are interested in this workshop, but have a different sort of bee box, not one that conforms to Bob's design, this is not a problem. You will take part in the activity by partnering up with another participant to construct their level – this is integral to the workshop. You will then receive one of Bob's adaptions (ready-made) which will fit on any box 20 cm x 28 cm.
What you will learn
The workshop will increase your native stingless beekeeping knowledge, and prepare you for extracting some of their honey.
You will learn about:
how bees organise their home space naturally

different bee box layouts

the microbiology of honey from three bee species

how the bees use the honey frame

the honey extraction

a low-tech method

a high-tech level
You will construct and take away:
your own honey super level and collecting frames
For those who attended Bob's Millen Farm workshop last year already know that Bob has a wealth of information he loves to share. He is open to questions and will take time to respond to challenges you might be having with your bees.
The knowledge you will take away . . .
Following the workshop, you will be able to confidently add the honey super level to your stingless box and watch the bees fill it up. You will know how to extract the honey without disturbing the bees. You will be able to prepare it for use, and even have some original ideas of how to use it!
In addition, you will be able share your stingless bee experiences with the other participants, some of whom you may have met in the 2017 workshop.
Presenter: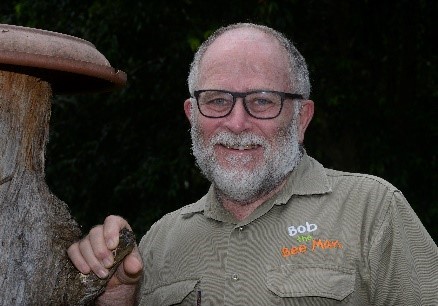 Bob the Beeman, entered the world of stingless bees sixty-five years ago, by watching a bush colony at six years old. This developed into a serious hobby in his teens. Bob says "Bees introduced me to the natural world and environment that supported them, and made relevant the study of that world. It was a lesson that has been a valuable part of my life, and still is for any youngster today. Our environment is in their hands". Although Bob studied Agriculture Science at University of Queensland, his expertise in bees comes from his direct contact with the bees from all aspects, and his lust for learning more. To this end, he has travelled to South America and Asia building connections with the stingless beekeeper communities there. Today, Bob can look back on a lifetime of discovery and innovation to fulfil his passion with the little bees.
Workshop venue
Private residence in Samford Valley. Address will be provided following registration.
Inclusions
New 4th level (or universal super) + ventilation stopper + inspection cover

Honey frames

Workshop notes

Recipes

Morning tea
Extras:
You can also buy at reasonable cost during the workshop, stocks/replacements of the following:
ventilation stoppers

Phorid fly / small hive beetle traps

Inspection covers

Level separators

Feeder canisters
** Also available at the workshop are order forms for the high-tech centrifugal honey extractor (2 month lead-in time for delivery)
What you need to bring
Paper/pen if you are an avid note taker!




Cordless drill (preferably with adjustable driving tension for driving screws – but don't worry if you don't have this).
Please note we require 10 participants for this workshop to run.
Workshop Cost and Bookings
Ticket: $85 for registration + $90 for materials / honey frames = Total $175.00
Payment to be paid in two parts, and the reservation is secure upon the full payment.
Registration: $85 paid in Eventbrite
Materials: $90 (Direct deposit details will be provided following ticket purchase.)
!! Important note: on registration inform us of the type of bee box you already have:
A box according to Bob the Beeman's specifications
A box 20 cm x 28 cm
Another box – give dimensions.
FAQ
Do I have to bring my printed ticket to the event?
Yes, please bring along your printed ticket.
What is the refund policy?
Sometimes circumstances change and we understand that occasionally you may not be able to attend a workshop you have paid for, so unless other information has been specified on the individual workshop page and as long as we're notified 7 days before the workshop starts, your options are:
to receive a full refund of your course fee if we can find someone to take your place from our waitlist

to transfer your amount paid toward any future course

to transfer your ticket to a friend or relative
What does the waitlist do?
If the workshop sells out you can add your details to the event waitlist. In the event of a cancellation, we will look at our waitlist for the next in line. We will also use this to notify you of when/if this workshop will be held again, so please register your interest in advance.
How can I contact the organiser with further questions?
Need more information or have addition questions about the workshop? Please contact our Workshop Facilitator, Libby, at workshops@millenfarm.org.