CollabXAsia: Physiotherapy through Sports Science
Description
CollabX Asia is our annual flagship conference series. Experts from the field and academia will be invited to share their views on new trends and technologies that are shaking up their specialist industries, and their transnational implications.
This series of talks is open to the public, alumni and current PSB Academy students, and aims to expose them to the future of the jobs they are headed for, and focus on key skills and talents they will need to hone as they develop their careers here and in the region.
---
As sports Science equips you with an understanding of health and human movement including healthy ageing; chronic disease prevention; athlete preparation; exercise prescription; health promotion and nutrition; it provides a strong foundation for specialising in treating athletes through Physiotherapy.
Speaker: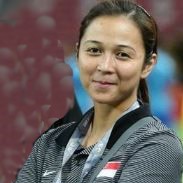 Ms Nurhafizah Sujad
Head of Department for Football Science and Medicine
Football Association of Singapore (FAS)
Currently leading the Department of Football Science and Sports Medicine in Football Association of Singapore. Responsible for the healthcare of the Senior Mens National Team and preparing them for their major tournaments such as World Cup Qualifiers (drew with Japan 0-0) and A International Friendlies. Overseeing the rest of the National Aged Group teams such as U22 to U17 teams.